Miscellaneous ramblings, news, views, and anything else we fancied writing about...
Ksar Rock Cables
DECEMBER 2015
New abseil cables have been installed on popular descent routes from Ksar Rock following reports of significant corrosion of in-situ anchors.
The anchors affected were the popular Catwalk Rappel Route and the Morocco Coco Rappel, both of which comprised steel cables that had been in-situ for a number of years. Following replacement over the winter, the current cable state is as follows: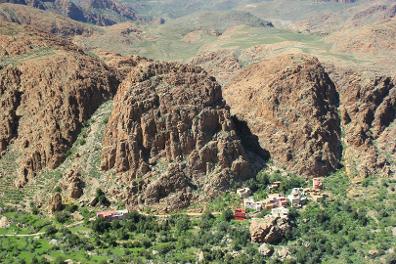 The Catwalk Rappel: This anchor has been replaced with a galvanised steel cable. Although it is possible to abseil from here all the way to the base of Paladin with 60m ropes, there is a high chance of getting ropes stuck. Instead, it is recommended to abseil from the Catwalk Rappel anchor diagonally to the top of the Cannon Tower - an abseil of about 26m.
The Palladin Rappel: This anchor comprises in-situ nylon slings around a short spike. Parties should consider taking additional 'tat' to replace the anchor, particularly in the autumn months at the start of the climbing season.
The Cannon Tower Rappel: The original stainless steel chain is in good condition and remains the best descent from the summit of the Cannon Tower, down the line of Lunatic Fringe. This is a 26m abseil.
The Kingping Rappel into Cannon Tower Gully: This anchor now features a new galvanised steel cable.
Morocco Coco Rappel: This anchor was reported as corroded, and has been removed (by an unkown party). Due to the likelihood of stuck ropes, and the availability of the Kingpin and Cannon Tower Rappel routes this anchor has not been replaced.