Welcome to Tafraout
Climb-Tafraout.com is an online resource for climbers, trekkers, and adventurous tourists visiting the Moroccan Anti-Atlas. We aim to provide all the information you need to make the most of your visit, from travel information and places to stay, to things to do and see in the surrounding area, as well as details of new climbs in the Tafraout region and latest updates on quartzite climbing in the Moroccan Anti-Atlas.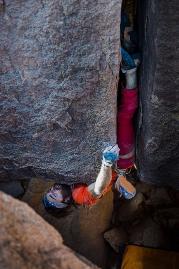 News - Cave Crack Direct by Sean Villanueva O'Driscoll
Petzl athlete Sean Villanueva O'Driscoll has made the first ascent of Cave Crack Direct (E6 6b) at the back of High Sierra Dome. In a four day trip, Sean, along with Said Belhaj and Brian Weaver, ticked many of Tafraout's hardest granite cracks including the infamous Lover's Crack (F8a) and Romeo (E7 6c). Read More...
NEWS - KSAR ROCK ABSEIL ANCHORS REMOVED
December 2018 - According to recent reports, the abseil anchors on Afantinzar's Ksar Rock have been 'chopped'. Click here to read more...
WHAT's HOT... WINTER 2018/19
Once again, 2018/19 is shaping up to be a good year for Tafraout climbing. Here are a few things to look forward to this season...
The big news this year is the publication of TWO new guidebooks to the Tafraout region.
The much-anticipated Tafraout Granite guidebook went on sale in September this year, and is set to open up a new side to climbing in the area. Granite climbing in Tafraout has had a bit of a shaky history, and it's probably fair to say that many Anti-Atlas trad climbers associate it with crumbly rock or badly bolted routes, but over the last few years those misconceptions have been changing. With loads of development on both sport and trad crags, Tafraout granite now has a lot to offer, from well-bolted sport routes, to desperate slab climbs, amazing jamming cracks, and the odd test-piece route that would be right at home on British gritstone. You can read more on our granite pages.
Over on quartzite, there's still lots on new development to check out, and awaiting its second ascent is the epic Millennium Ridge, which at 1500ft is the longest route in the Anti-Atlas. This 30-pitch monster route goes at a steady V.Diff, surely providing one of the best mountain days that Tafraout has to offer. Whatever grade you normally climb, this is certainly one to put on your list for this season. Millennium Ridge is one of a collection of superb long mountain days described in the new 100 Classic Climbs guidebook, which went on sale this autumn - you can read more on our guidebooks page.
Meanwhile, if single-pitch cragging is more your thing, then be sure to check out the newly developed Douwalus Crags near Madao - probably one of the big discoveries of 2018 and certainly in need of some repeat ascents. Other cragging venues that saw some extensive development last year include Dragon Rock, Hairpin Slabs, and Maid Marion Rocks, so be sure to download topos before you head out this winter - check out our Guidebook and Download Store for more info.
Finally, the other big news in town is the availability of bouldering mats - These can now be rented from Maison Troc in Tafraout, so check them out for a perfect evening or rest-day activity.
PLANNING YOUR TRIP
It's never been easier to plan an awesome Moroccan climbing holiday! Check out our handy TRIP PLANNER for a step-by-step guide to booking flights, hotels, and cars.

Following the huge success of the Climb Tafraout Moroccan Anti-Atlas guidebook which was published in 2017, two companion guidebooks are currently in production and should be published by late 2018. You can read more about these, and the full range of other Tafraout climbing guides on our Guidebook Page.

The pace of development around Tafraout is still pretty staggering, with new lines being reported throughout each winter season. Our pdf downloads keep you up to date on latest developments, and can be downloaded from our Guidebook and Download Store HERE!
OUR MOST RECENT TOPOS...