Welcome to Tafraout
Climb-Tafraout.com is an online resource for climbers, trekkers, and adventurous tourists visiting the Moroccan Anti-Atlas. We aim to provide all the information you need to make the most of your visit, from travel information and places to stay, to things to do and see in the surrounding area, as well as details of new climbs in the Tafraout region and latest updates on quartzite climbing in the Moroccan Anti-Atlas.
To keep up to date and share info about Tafraout climbing, including new routes, feedback, good hotel and flight deals, as well as general Anti-Atlas climbing posts, please join our Facebook group here:
News - 2nd EDITION Moroccan Anti-Atlas Guidebook NOW AVAILABLE
A brand new edition of the very popular Climb-Tafraout Morocco Anti-Atlas guidebook is now available! Check out the preview here, and order online in our store.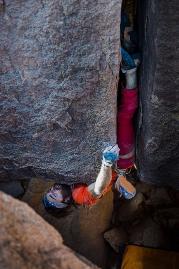 News - Cave Crack Direct by Sean Villanueva O'Driscoll
Petzl athlete Sean Villanueva O'Driscoll has made the first ascent of Cave Crack Direct (E6 6b) at the back of High Sierra Dome. In a four day trip, Sean, along with Said Belhaj and Brian Weaver, ticked many of Tafraout's hardest granite cracks including the infamous Lover's Crack (F8a) and Romeo (E7 6c). Read More...
NEWS - KSAR ROCK ABSEIL ANCHORS REMOVED
December 2018 - According to recent reports, the abseil anchors on Afantinzar's Ksar Rock have been 'chopped'. Click here to read more...
NEWS - Tafraout watercolour prints now on sale
We've got a selection of brilliant watercolour prints now available for sale. These prints have been selling really well in Maison Troc in Tafraout, but now you can buy them right here in our online guidebook store. Check them out here...
PLANNING YOUR TRIP
It's never been easier to plan an awesome Moroccan climbing holiday! Check out our handy TRIP PLANNER for a step-by-step guide to booking flights, hotels, and cars.

Following the huge success of the Climb Tafraout Moroccan Anti-Atlas guidebook which was published in 2017, two companion guidebooks have been published - 100 Classic Climbs and Tafraout Granite. You can read more about these, and the full range of other Tafraout climbing guides on our Guidebook Page.

The pace of development around Tafraout is still pretty staggering, with new lines being reported throughout each winter season. Our pdf downloads keep you up to date on latest developments, and can be downloaded from our Guidebook and Download Store HERE!
You can also keep up to date with latest developments by joining our Facebook Group here...
https://www.facebook.com/groups/ClimbTafraout
OUR MOST RECENT TOPOS...