Welcome to Tafraout
Climb-Tafraout.com is an online resource for climbers, trekkers, and adventurous tourists visiting the Moroccan Anti-Atlas. We aim to provide all the information you need to make the most of your visit, from travel information and places to stay, to things to do and see in the surrounding area, as well as details of new climbs in the Tafraout region and latest updates on quartzite climbing in the Moroccan Anti-Atlas.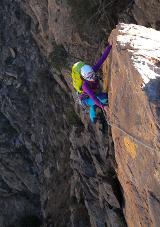 For Sale...
The Belgian owners of Ameln's Hotel Tete du Lion are looking to sell the property. This is a superb opportunity to acquire a large hotel in a prime location for climbing and tourism.
The hotel is situated in the Almen valley, 4km from the centre of Tafraout. Total floor space is 1760 m²
On the ground floor :
- A lounge with reception + 1 telephone booth + 1 WC for men and 1 for women.
- 8 rooms (17 beds including 2 large beds) around a garden with small fountain (all rooms are heated / air conditioned, with telephone).
- 1 laundry room
- 1 storage room
First floor :
- A large terrace with panoramic views, facing the lion's head where meals can be served.
- A restaurant (22 seats)
- A kitchen and 2 other bedrooms.
- An apartment consisting of a large living room, a bedroom with bathroom and a small terrace.
The hotel has a well, in addition to a connection to ONEP (drinking water mains).
Swimming pool on the plan.

The asking price is 300000 €
If anyone is interested in this fairly unique opportunity, then please contact us and we'll put you in contact with the sellers.
New 1:25 000 Adventure maps are here...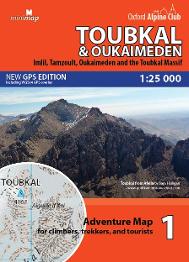 If you've thinking of exploring the Toubkal region on your way too or from Tafraout then don't leave home without this! 1:25000 trekking map of Toubkal, and the resorts of Imlil and Oukaimeden, as well as a handy Marrakech street map.
Read more at www.ToubkalMap.com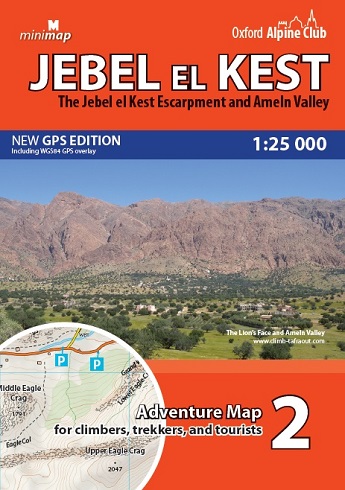 The second sheet in the Adventure Map series covers the Jebel el Kest massif.
Now available from our online store.