The most up-to-date climbing guidebooks to the area are the range of Climb Tafraout Guidebooks: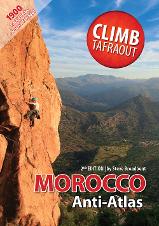 CLIMB TAFRAOUT | MOROCCAN ANTI-ATLAS
2nd Edition Published by the Oxford Alpine Club, 2020
ISBN 978-1-913167-07-3
Morocco's Anti-Atlas mountains are a paradise of adventurous traditional climbing, where winter sun, stunning scenery and an enchanting culture combine to create one of the world's most exciting climbing destinations.
This updated 2nd edition of the popular Climb Tafraout guidebook describes more than 1900 climbs in the Anti-Atlas region, covering the best crags across all of the main climbing areas. As well as detailed colour-coded photo topos and pitch-by-pitch descriptions, the guide makes use of superb GeoGraphics 1:25k and 1:50k topographic maps, with QR codes for each crag, buttress and parking spot, making it easier than ever to find your chosen route.
Climbs range from single-pitch roadside crag routes to big multi-pitch adventures, the longest of which involves some 1500m and 35 pitches of climbing. Among them are some of the most incredible climbs in this fascinating country, all enjoying glorious Saharan sunshine, short approaches and dazzling mountain scenery. As well as all of the popular quartzite crags, the guide describes a selection of easily accessible routes on the granite tors around the town of Tafraout, including both traditional and bolt-protected climbs. A variety of bouldering circuits are also listed.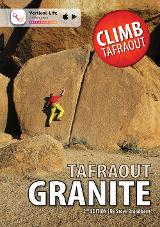 CLIMB TAFRAOUT | TAFRAOUT GRANITE
Published by the Oxford Alpine Club, 2018
ISBN 978-0-9935486-5-9
A modern, full-colour guidebook to the superb granite cragging around the town of Tafraout, describing almost 250 climbs all within 7km of the town, including sport-climbing, trad-climbing, and selected bouldering circuits.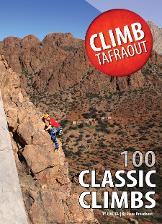 CLIMB TAFRAOUT | 100 CLASSIC CLIMBS
Published by the Oxford Alpine Club, 2018
ISBN 978-0-9935486-6-6
Focusing on the longer, multi-pitch routes, this guidebook will suit climbers who seek a reliably good quality mountain day - It's aim is simply to get you to the crag, up the route, and back down without wasting hours hours getting lost. One hundred of the region's best and most significant climbs are described in superb detail, including 1:25k approach maps and annotated route topos. Whether you're a first time visitor, or making multiple return trips, this guide will help you find and enjoy the very best of Tafraout climbing.
LEGACY GUIDEBOOKS
Several older guidebooks are still available, and may be of interest...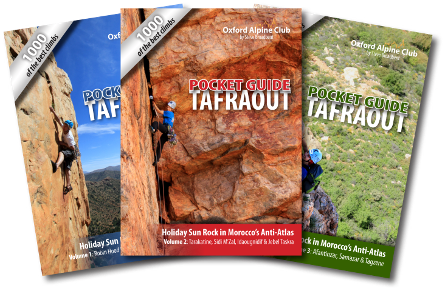 TAFRAOUT POCKET GUIDES
Published in 2013, the set of three Tafraout Pocket Guides have become a popular sight on the crags of the Anti-Atlas, selling so quickly that getting hold of them has become tricky in recent months.
The guides are A6 format, so they fit easily into a pocket or day-sack lid, making them perfect for carrying up long routes. Describing more than 1000 routes between them, they still represent the most up-to-date and definitive guides to all of the best crags in the range.
Each volume contains full background information, along with handy crag reference tables to help you choose a venue. Routes are described alongside accurate photo topos and detailed approach maps.
Coverage of the whole range is provided over the three volumes as follows:
Volume 1: Tagmout, Robin Hood Rocks, the Ameln Valley, and Tafraout Granite.
Volume 2: The Tarakatine Pass, Sidi M'Zal, Idaougnidif and Amzkhssan, as well as the Tizi N'Takoucht Escarpment and Jebel Taskra.
Volume 3: The 'North Side' centres of Afantinzar, Samazar, and Tagzene.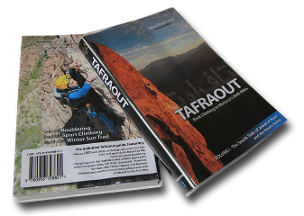 TAFRAOUT | Rock Climbing in Morocco's Anti-Atlas
Describing all 2000 routes across the entire range, this two-volume guidebook was the definitive guide to Anti-Atlas climbing when it was published in 2013.
Volume 1: The South Side of Jebel el Kest, including the Ameln Valley and Tafraout Granite.
Volume 2: The North Side of Jebel el Kest and Jebel Taskra.
Both volumes are now out of print, but a few copies of volume 2 are still available. (Note: as these books were originally sold as a pair, volume 2 does not contain the background information or introductory chapters).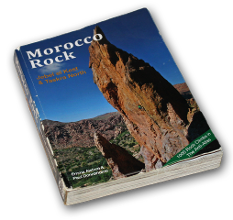 MOROCCO ROCK
Published by Crack Addicts in 2012, this A5 guidebook described 1000 routes on the north side of Jebel el Kest and Jebel Taskra.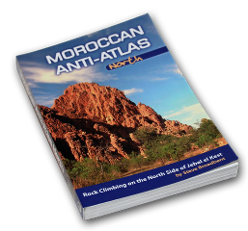 MOROCCAN ANTI-ATLAS NORTH
Published by the Oxford Alpine Club in 2010, this was the first guidebook to describe the north side of the Jebel el Kest range.