The local food tends to be simple, cheap, and of limited variety. Tagine (slow-cooked stew) is the most popular dish and is available in most restaurants and cafes, along with couscous and Brochettes (meat kebabs). There are a number of eateries in Tafraoute, and in general the hygiene of these establishments has not come under doubt. However, standards are not comparable to those seen in the UK, and a lack of safe water, soap, and clean toilets, coupled with the presence of animal waste, pests and flies around town does not inspire confidence. As a general rule, the dangers are small and certainly not as substantial as those in India and the Himalaya, or other parts of Africa. Avoid drinking non-chlorinated tap water and eating ice cream, but salads, vegetables, fruit, rice, and meat seem to be safe.

TOP PICK:

Restaurant La Kasbah
This traditional family-run restaurant offers the best local dishes available in Tafraout, specialising in some exceptional tagines. Dishes here are made to order, so to make the most of your dining experience it is well worth turning up a bit before you wish to dine, and placing your order - they'll ask you what time you would like to eat, then you can go away, stroll around the Souq or visit Maison Troc across the street. When you return you will be treated to the best food Tafraout has to offer, prepared in an immaculately clean kitchen and served in authentic local tagines in the quiet and cosy Morrocan front-room.

It is perhaps no surprise that La Kasbah is the eatery of choice for the wealthier local inhabitants, who often congregate here to share a lunchtime tagine. It is thoroughly recommended as a must-do experience for climbers in Tafraout looking for a little local luxury.
The Kasbah is also home to sporadic climbers' parties, usually at the start or end of the climbing season, which are well-worth seeking out as the only real nightlife in town!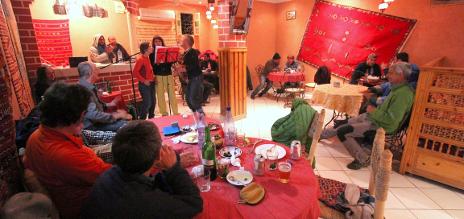 Starters from 20Dh, Mains from 70Dh, Full Menu 90Dh.
Wine and beer may be available on request.
The Hotel Les Amandiers provides 4-star luxury aimed at the western traveller, and whilst prices are higher than most other eateries in town, it has plenty to offer travellers on most budgets.
The food is prepared to a high standard, and the service is second to none. The extensive menu includes both local tagines, brochettes, and western dishes such as pasta, and portion sizes are amongst the largest you're likely to find in Tafraout. Indeed some of the starters provide a perfectly adequate meal for those with smaller appetites.
A selection of wines is available from the well-stocked cellar, along with a full range of beer and spirits from the bar. The hotel also chlorinates its own water, so provides the only truly safe place to enjoy ice cubes in your drink!
On New Year's Eve the hotel traditionally hosts the best party in town, and it's well-worth booking tickets in advance.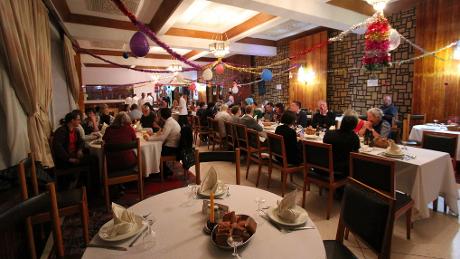 Starters from 35Dh, Mains from 65Dh, Full Menu 120Dh
Extensive range of wines, beers, and spirits available from the well-stocked bar and cellar.
Other eateries in Tafraout include the following:
Hotel San Antoine | Full Menu = 100DH. Beer and wine available.
Limited menu, but very good food made to order. Non-residents should book in advance. Clean kitchens and excellent service.
Etoille de Sud | Full Menu = 90DH.
Opulent interior and pleasant outdoor terrace. Caters for large pre-booked tour groups, and as a result food quality can vary enormously depending on when it's been prepared. Limited menu.
Etoille d'Agadir | Main = 40-50DH
Extensive menu, but rather average food.
Café Atlas | Main = 40-50DH
Extensive menu and reasonable food, but nothing special for the price.
Café Marrakech | Soup = 8DH, Main = 35DH
Popular, family-run café on the hill in the centre of town. Excellent service and good value light meals and lunches in a comfortable café atmosphere.
Hotel Tanger | Full Menu = 50DH.
Comfortable interior, serving cheap meals but relatively small portions. Good value mint-tea.
Snack Kraminssn | Full Menu = 50DH
Varied menu with excellent salads and good range of fruit juices. Not the most comfortable interior, but friendly service and good value for money.

We've got a range of exclusive discounts on Tafraout hotels, including Les Amandiers, Les Amis, Hotel Argana, and the Auberge L'Escalade.