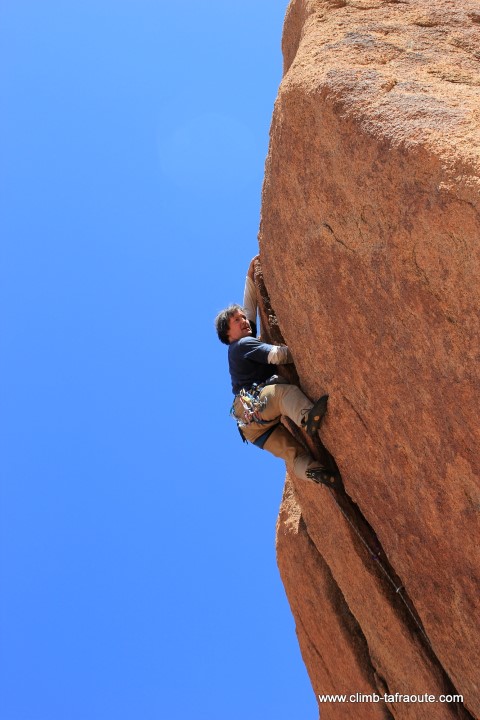 Above: Johnny Dawes on Rumpus (E4 5c), one of Tafraout's many superb wide crack climbs.
The spectacular granite landscape around Tafraout has seen sporadic visits by climbers since the 1960s, but it was not until the late 1990s that climbing in the area really took off. Around this time, Spanish climbers bolted a number of lines on the tors and boulders around the town, creating a selection of hard crack climbs and esoteric sport routes.
Although most of the interest in Tafraout has been in the adventurous traditional climbing on the quartzite massifs of Jebel el Kest and Jebel Taskra, the town's granite cragging has become increasingly popular in recent years and the publication of the Tafraout Granite guidebook in 2018 has done much to highlight the quality of the climbing here.
Although it is true that there are large amounts of friable and crumbly rock in the area, many of the crags here feature excellent quality granite, including some brilliant slab and crack climbing. Today, there are approximately 250 excellent granite climbs within just 7km of Tafraout, with everything from bouldering circuits to trad routes, bold slabs, jamming cracks, sport crags to multi-pitch routes.
Full details of the region's granite climbs can be found in the Tafraout Granite guidebook.
Photos below feature Sean Villanueva O'Driscoll, Brian Weaver and Said Belhaj, taken by Claudia Ziegler (www.claudiaziegler.com)