Throughout the winter months the Anti-Atlas have an almost perfect climate for climbing and walking. The season starts in October and November, when the unbearable summer temperatures have subsided.
Daytime temperatures can be anything from about 12 to 20 Celcius in the shade, or 15 to 30 Celcius on south-facing crags, dropping much lower at night. Short-term heatwaves and cold-snaps are not unusual throughout the climbing season, and climbers may find themselves either needing T-shirts or thermals and soft-shells at any time of year.
December is traditionally the "wet" month, though rain is still rare, and is unlikely to spoil a visit. A wet autumn is usually followed by a dry January / February, then storms in March / April. Conversely, a heatwave in October / November can often lead to a wet period over Christmas, then a very mild and dry spring. Come prepared with a lightweight waterproof at any time of year.
Evening temperatures can be quite chilly, and cold weather is possible at any time through the winter, so visitors should be prepared with warm clothing for the evenings.
Having said all of that, "cold" and "wet" are relative terms - even in the worst of Tafraout weather we're not talking numb fingers! The rock tends to stay fairly warm and dries almost immediately after rain.
More information, including a 2-week weather forecase for Tafraoute can be found on ZOOVER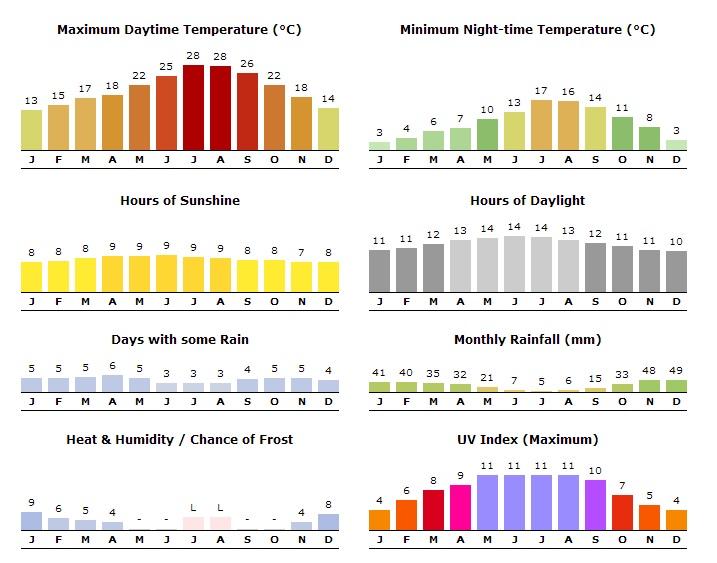 We've got a range of exclusive discounts on Tafraout hotels, including Les Amandiers, Les Amis, Hotel Argana, and the Auberge L'Escalade.