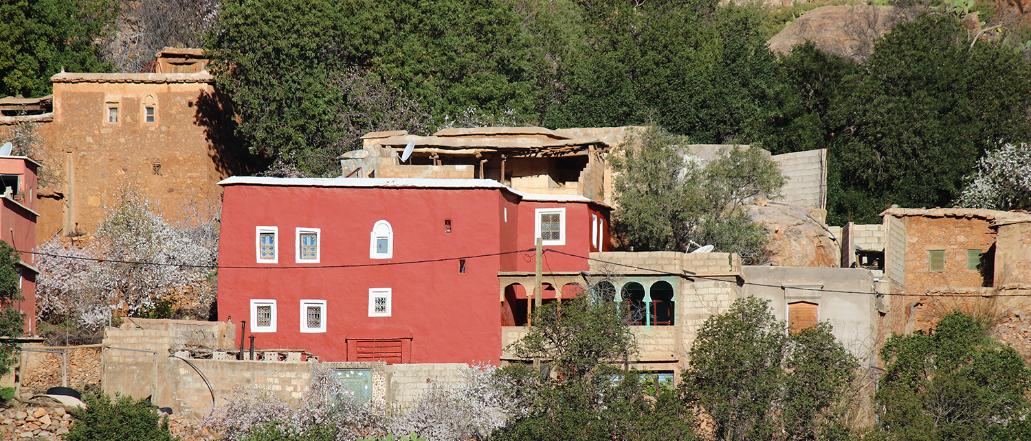 KSAR ROCK GUESTHOUSE, ANAMMER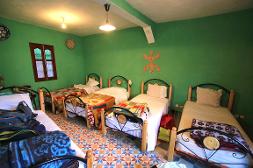 Located in Anammer village, at the foot of Ksar Rock in Afantinzar, the Ksar Rock guesthouse is our top pick for accommodation on the north side of Jebel el Kest. This family-run auberge is a delightful place to stay, surrounded by the most incredible scenery the Anti-Atlas has to offer, and within walking distance of enough 3-star climbs to last many visits.
Accommodation is basic, but owners Mafoud and Fatima pride themselves in the satisfaction of their guests, and with competitive rates and an unbeatable location, it's no wonder that this prime spot fills up quickly during the climbing season.
Accommodation is full-board, including a home-cooked dinner each evening, and good breakfasts. Two rooms are available - one with 5 single beds and one with a double bed. A small living room serves as a place to eat and socialise in the evening, and numerous board games are available for guest use. There is also a clean, single shared toilet and shower, and outdoor terrace.
Although food is provided, guests are advised to take drinks with them for the duration of their stay in the valley, as the only drink available in the village is untreated water from the well. Although this should be safe, guests may wish to consider taking their own bottled water. Alcohol is not available, but provided some discretion is exercised then guests can consume their own alcohol on the premises.

HERE'S WHAT WE LOVE ABOUT THE KSAR ROCK GUESTHOUSE:
The best location of any climbing auberge we've ever seen!
Excellent service
A true Berber cultural experience
Good standard of cleanliness
Cosy living room with board games for passing the evenings.
Good value for money.
Online booking available at www.climb-tafraout.com
About this hotel
Price*: 150Dh per person (full board)
Facilities:
Group room with 5 single beds
One double room available
Shared toilet and shower
Living room / social room
Dinner and Breakfast included
Online Booking
Having been exploring the Anti-Atlas for more than ten years now, we've built up many friendships in Tafraout and the surrounding area.
We're keen to support the local economy through promoting tourism in the area, and as a result several hotels have been willing to offer reduced rates for climbers booking their accommodation through www.climb-tafraout.com
You can reserve rooms directly with the hotel simply by completing the form opposite.
All of the hotels featured on this website have been personally checkout out and found to offer the kind of service, cleanliness, and security that we would be happy to recommend to our clients.
Please note that bookings made through this website will go directly to the relevant hotel, and are not handled directly by www.climb-tafraout.com. Whilst we are happy to assist if required, any follow-up communication regarding your booking is best made directly with the hotel.
Please note that due to unreliable internet performance in Afantinzar bookings may take up to 7 days to be received. If you require a short-notice booking then your can try making a booking through our guide in Tafraout:
omar_tafraout@yahoo.fr