Tafraout Map Update
The range of GeoGraphics topographical maps is currently being updated (August 2018), so stock will be limited. Hopefully details of the new range will be available during Autumn 2018.

Local Area Maps
Getting hold of maps for the mountainous regions has traditionally been difficult, but the recent OAC MiniMaps now provide good coverage of the Anti-Atlas around Tafraout. The following OAC map series are recommended: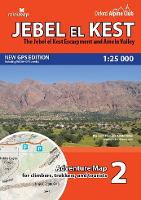 1:25 000 Adventure Maps
The Adventure Map series are the most detailed maps currently available to Morocco's mountainous regions, featuring 1:25k mapping along with a WGS84 GPS grid overlay. They are aimed at walkers, climbers, bikers, and skiers wishing to explore Morocco's mountainous back country.
The first sheet in the series covered the popular Toubkal and Oukaimeden areas of Morocco's High Atlas, with a detailed Marrakech street plan on the reverse. A recently published second sheet covers the Jebel el Kest massif.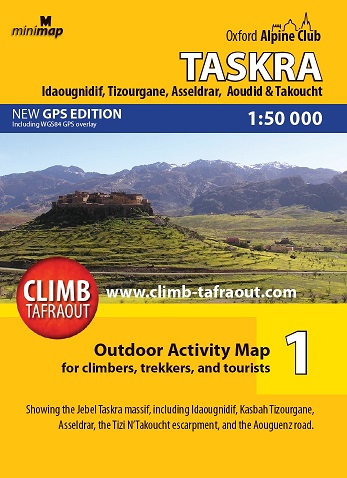 1:50000 Outdoor Activity Maps
This popular range of maps cover the Anti-Atlas in 5 handy A2 sheets. All feature modern, clear mapping, elevation shading, 10m contours, and a WGS84 GPS lat/long grid overlay. The 1:50k scale makes them perfect for exploring on or off the beaten track, and they are an invaluable tool for climbers looking for new crags, hikers enjoying the tremendous mountain walking on offer, or mountain bikers exploring Tafraout's brilliant off-road pistes.
All five Outdoor Activity MiniMaps can be purchased in our online shop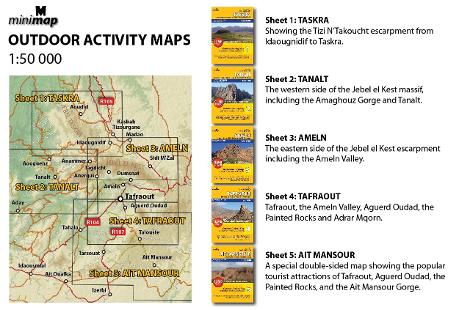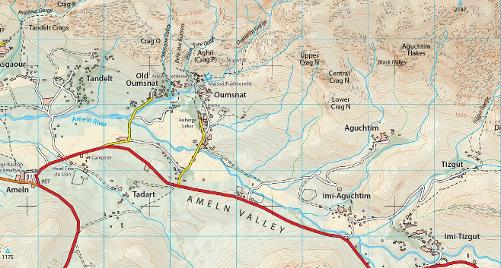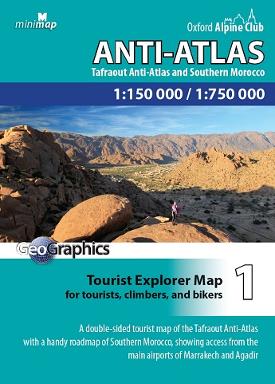 1:150 000 Tourist Explorer Maps
Whether you're exploring the superb back-country tracks by car, 4WD, or bike, or just organising a self-drive visit to Tafraout, then the Anti-Atlas Tourist Explorer Map is an essential addition to your trip. This handy, A2 map is double sided, with a 1:150k overview of the Anti-Atlas on one side, and a 1:750k South Morocco road map on the back.
This map will also suit climbers and bikers for general navigation around the area, as it features all of the navigable roads and pistes, as well as village names and main mountains.