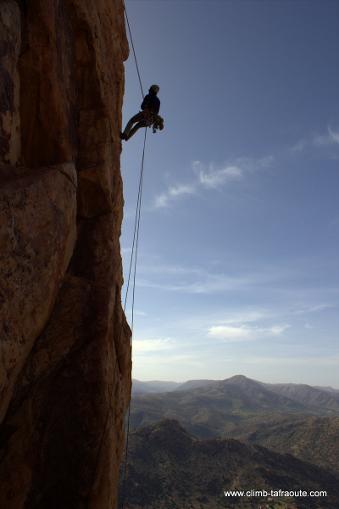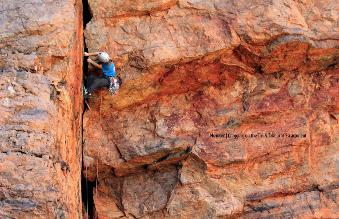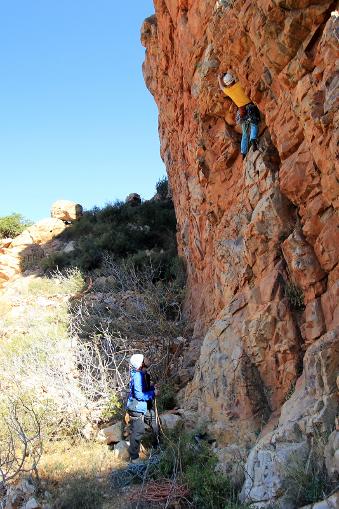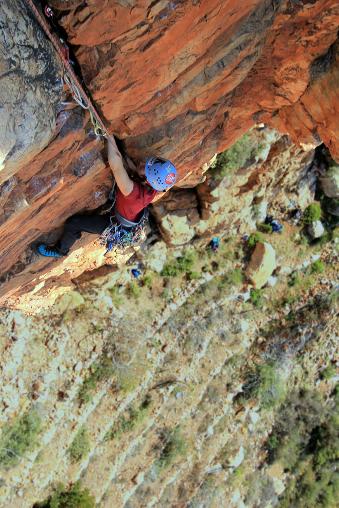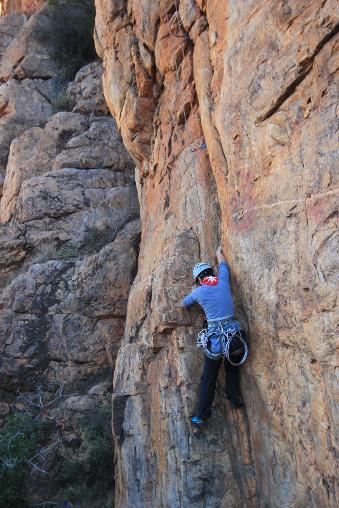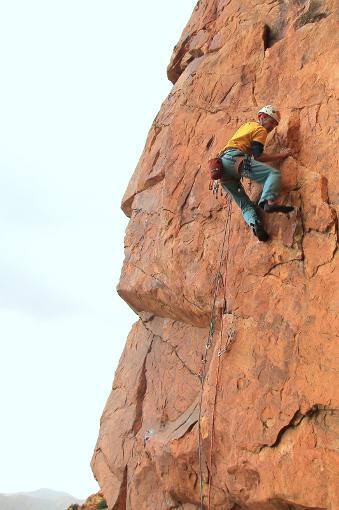 An Overview of Tafraout Climbing
Welcome to a very special place... Morocco's Anti-Atlas mountains are a unique playground for the adventurous climber, where perfect weather, miles of sun-drenched orange quartzite, stunning scenery and an enchanting culture combine to create one of the world's most exciting destinations for winter sun-rock.
Sitting on the south side of Jebel el Kest and the Anti-Atlas range, Tafraout is now one of Morocco's most significant climbing destinations, with well over 2000 recorded routes spanning every grade and style you could imagine.
The region is split into four main areas as follows:
1) Jebel Taskra - The Tizi N'Takoucht escarpment runs along the northeastern side of Jebel Taskra, providing a variety of crags that face north and east, and stay cool during periods of warmer weather. Only a handful of crags have been fully developed, and this region still has a very adventurous feel to it. Don't miss the long routes at Asseldrar, and the superb cragging at Tifghelt and Imrir. The escarpment is situated in the northern part of the Anti-Atlas, about an hour's drive from Tafraout. The Kasbah Tizourgane, near Asseldrar, therefore provides an ideal base for climbers wishing to explore these remote cliffs.
2) The North Side of Jebel el Kest - The vast Jebel el Kest massif can be considered in two main parts. The north side, including the incredible valleys of Samazar and Afantinzar, holds some of the region's best cragging and tends to be cool enough to climb from October to late April. It can be accessed from a base in Tafraoue, or the Kasbah Tizourgane near Idaougnidif. The region was developed from 2007, when a new road was opened through Afantinzar from Tanalt to Idaougnidif, providing access to a superb variety of almost roadside crags. There's a tremendous variety of climbing here, from long full-day adventures such as those on Aylim (The Great Rock), to roadside cragging, or delightful multi-pitch mountain routes. Don't miss Scimitar Ridge on Safinah, routes up the Great Rock of Samazar, Multi-pitch roadside adventures on the Grand Wall of Lower Eagle Crag, Roadside cragging in the sunshine at Anammer and Ksar Rock, and the superb mountain crags of Adrar Umlil and Adrar Iffran.
3) The South Side of Jebel el Kest - On the south side of the massif is the mighty Ameln Valley, which sits just beneath Tafraout. The long escarpment running from Anergui in the west to the Tarakatine Pass in the east holds hundreds of climbs, including the sensational White Tower at Tifghalt, and Joe Brown's infamous Tizgut Crack. This was the original home of Tafraout adventure climbing, and about 150 routes here were described in the original Cicerone guidebook ,Climbing in the Moroccan Anti-Atlas, though this is now rather out of date. The crags here almost all face south, and with many of them being low down in the valley, this is a good choice for periods of cooler weather.
4) Tafraoute Granite - The magical granite tors around Tafraout and Aguerd Oudad were, for many years, Tafraoute's most famous climbing ground, and since the early sixties they have remained a well-known, if rather esoteric, bouldering destination. Since the explosion of adventure-trad on Jebel el Kest, accompanied by widespread rumours about the poor quality of the rock, granite climbing seems to have gone out of fashion. Whilst there is some truth in those rumours - some areas of the granite are crumbly - the strangely shaped tors right on the edge of town actually provide some excellent climbing, both trad and sport, and the boulders are an excellent way to pass an afternoon or evening. See our granite pages for more information.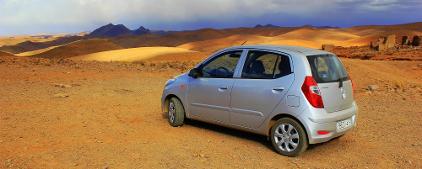 Do I need to hire a car?
This is one of the most frequently asked questions about climbing in Tafraout, and there's no simple answer! To experience the best of Moroccan adventure trad then you really need a car in order to access the north side of Jebel el Kest, including Idaougnidif, Afantinzar and Samazar - home to the majority of the big classic climbs. Car hire costs approximately £200 for a week, but in our opinion is most definitely worth it.
Having said that, a small selection of crags are accessible without a car. Tafraout Adventure offer a good (but not cheap) taxi service for climbers, and will drop off and pick up at most of the crags in the Ameln Valley.
Some people have also had success with hitch-hiking, although this usually involves slightly extended walk-ins. Tazult, Assgaour, Oumnsat and Tifghalt are all accessble from the main Ameln valley road, so are feasible options for hitching. The new Tafraout Guide provides full information for climbers making use of public transport.
Whether or not you intend to hire a car or talk people into giving you lifts, don't leave Tafraout without our handy climbers' map (it has the taxi number on it in case you get stuck without a lift home!)
What type of climbing is there?
One of Tafraout's greatest and unique assets is the variety of high quality climbing. Here's a quick guide to what you can expect to find, and where the best places are to find it...
Long Multi-pitch Trad - This is what the Anti-Atlas do best, specially in the VS to E2 grade range. Afantinzar, Samazar and Anergui are all home to some unmissable full-day trad adventures - take for exampleLabyrinth Ridge, the 800m roadside VS; Central Buttress, a 450m immaculate E1 with a 10 minute approach; Scimitar Ridge on Safinah, a superb 10-pitch VS... the list goes on.
Multi-pitch Cragging - You could quite easily fill an entire trip enjoying endless 2 to 3 pitch classics amidst magical scenery. Ksar Rock in Afantinzar, Adrar Umlil at Idaougnidif, and the Tizgut Gorge in the Ameln Valley are destinations not to be missed.
Single Pitch Cragging - With the enormous scale of some of Tafraoute's crags you might be surprised to find such a variety of single-pitch cragging available. High in the Afantinzar Valley, Anammer Crags are perhaps the most important and extensive for single-pitch routes, with more than 100 routes within half a kilometre of each other. Robin Hood Rocks at Tanalt, the Tagzene Gorge and Tizi G'zaouine are also well worth checking out, along with the pleasantly accessible Sunshine Wall at Tamalont.
Easy Climbs for Beginners - People used to say that the Anti-Atlas was no place for novice climbers, but that no longer holds true. Climbers need to be aware that there is no organised rescue, and that medical facilities are limited, but this is not to say there is no good climbing for beginners. Due to the relative remoteness of some of the crags, the lack of other climbers it's not ideally suited to groups composed entirely of novice climbers, but if you're with someone with a bit of experience then there are dozens of brilliant low-grade climbs that are a paradise for those new to climbing. As well as the countless easy single-pitch routes at Anammer, it's worth checking out the lower tier at Robin Hood Rocks, the Tagzene Gorge, as well as a handful of easy mountain routes such asWild Country (V Diff) on Adrar Asmit, and Thunder Rib(Severe) on Samazar's epic Great Rock. The Solarium on Adrar Umlil is a dream for learning to lead, and the Amzkhssan Wall has some superb, roadside, multipitch V-Diffs. If you're looking for more advice then feel free to contact us with specific questions.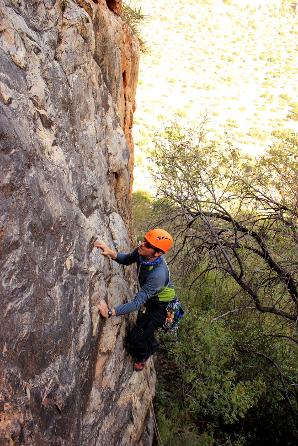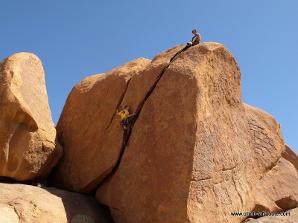 Hard Routes - Tafraout quartzite doesn't typically lend itself to super-hard climbing, and for most people that's no bad thing. This is one place in the world where you'll experience the very best there is on offer without climbing above E2. However... don't be put off if you're looking for something a little more news-worthy, as there's plenty to go at! The amusingly named Daffodils, Kittens and Pink Bunny Rabbits from Topher Dagg, Luca Vallata & Davide Cassol weighs in at ED+, E5 6a over 9 pitches and 320m of climbing, hinting at the style of routes that are possible for competent teams.The Flying Scotsmen (E6) is another similarly long and trying endeavor, whilst on the shorter crags it's worth heading to Ksar Rock, Robin Hood Rocks, or the Assgaour Gorge for several classic lines above E4. Recent visits by top climbers such as James Pearson and Johnny Dawes have left the oasis with some super-hard routes in the upper E-grades, and there's clearly plenty of potential for more...
Crack Climbs - Most climbs on quartzite are walls, buttresses, grooves and ridges, but for some reason, in amongst it there's a paradise of wide cracks... so bring out your size 6 cams and get stuck in! Look out for the list of "top ten wide cracks" in the Moroccan Anti-Atlas North guidebook. Over on the granite there's even more to go at, though most of them are in the upper grades. Routes such as Rumpus and Brutus at Aguerd Oudad are up there with any classic American off-width, and there are a handful of un-climbed desperates that have snubbed some pretty hard teams over the years...
Sport Climbing - Amongst plenty of rather crumbly outcrops are plenty of incredible, solid sport routes, mostly in the upper grades. To be fair, Tafraout isn't the kind of place you'll go just for the sport climbing, but don't rule it out if you're looking for a technical challenge or break from the mountain crags. The New Tafraout Guidebook presents a selection of granite sport climbs.
Bouldering - Tafraout granite has had some bad press over the last few years... but don't believe it! Some of the bouldering around the Tafraout back-country is superb, and whilst it's never going to be extensive enough to warrant a trip in its own right, an afternoon on the boulders makes a great alternative to mountain cragging, set amidst some spectacularly 'different' scenery. Bouldering here has been going on since the 1960s, and no record exists of what has and hasn't been climbed. Instead, this is the kind of place to go and lose yourself for a few hours, making problems up as you go along...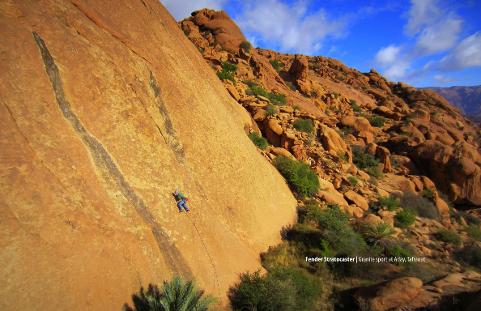 Equipment
There are no climbing equipment stockists in Tafraoute, so it's important to make sure you take everything you need - particularly consumables such as chalk or rappel tat.
For trad climbing on the quartzite a typical UK trad rack will suffice, but go heavy on the 120cm slings and camming devices, particularly in the mid to large sizes. There's not generally much need for tiny gear. 2 x 60m half ropes are perfect for everything on the quartzite, but of course you can get away with 50s or even a single if you must - it's a fairly forgiving place!
Don't forget that it's a Muslim country, so you'll be expected to cover up more than you might be used to in other sun-rock destinations... The vegetation is all prickly anyway, so long trousers and covered shoulders are no bad thing.
Remember to bring sun-block, a sun-hat and your camera.
Guiding and Instruction
For guided climbing in the Tafraout area we recommend the following companies:
Climb Morocco are an American company, based in Marrakech. They offer single- and multi-pitch guided climbing and courses throughout Morocco. Click www.climbmorocco.com.
Rob Keet is a UK-based MIA holder who offers guided climbing and courses in the Moroccan Anti-Atlas. More details on his website here.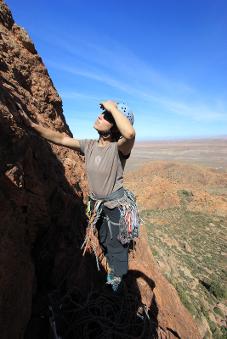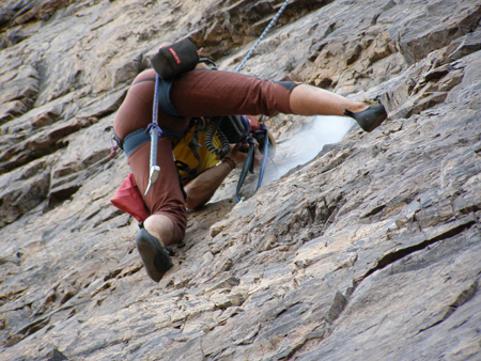 Fixed Gear & Ethics
Despite it being 20 years since the first British pioneers began to open up the quartzite crags of the Anti-Atlas, Jebel el Kest is very much a 'developing' destination. Today, a huge variety of climbing styles, ever-increasing visitor numbers, and the close proximity of quartzite trad and granite sport crags create the potential for conflicting ethics in the region, particularly given the lack of historical foundation. Quartzite provides an ideal medium for adventurous traditional climbing, with a combination of solid natural protection and challenging un-protectable walls which will provide obvious temptation to bolters.
To date, all of the routes on the quartzite have employed solely natural protection, and visitors to this region are urged to respect this ethic in order to preserve the adventure of this unique trad-climbing centre. Please save the bolts for the granite!
On popular quartzite crags a number of shared rappel routes have been equipped with steel cables or chains in order to avoid ever-increasing amounts of nylon 'tat' which does not fare well over the summer in the Saharan Sun. In all cases these 'artificial' anchors have made use of natural features around which a nylon sling could have been placed equally well.
At least one fatal accident has occurred as a result of the failure of a nylon abseil anchor, and all climbers are strongly encouraged to remove and replace existing 'soft' anchors, even if they appear to be in good condition.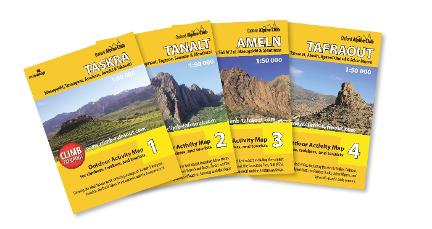 Check out our complete range of local area maps, including the 1:50000 Outdoor Activity Maps as well as free downloads.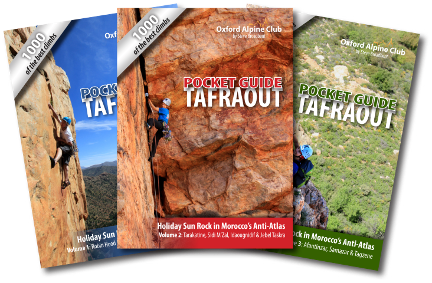 A full range of climbing guidebooks is available in our online shop, or you can read about what's available here.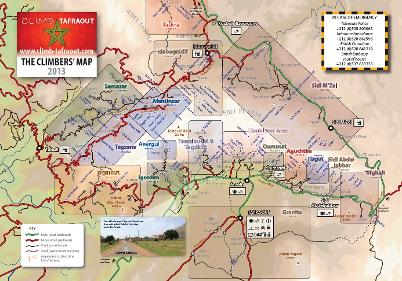 We've got a bunch of free downloads to help you get the most out of your trip to the Anti-Atlas, including maps, updates, and topos.