The oasis town of Tafraout is the traditional base for climbers exploring the mountains of the Anti-Atlas, and despite the long drive to many of the North-Side crags, it is anticipated that this will remain the popular choice. The town has all the services and amenities required by visiting climbers, including restaurants, shops, campsites, hotels, Hammams, mechanics, a good pharmacy, and small hospital. The following options are recommended:

TOP PICK:

Hotel AUBERGE Les Amis
Located right in the centre of Tafraout, this family-run guesthouse is very popular amongst climbers looking for budget accommodation. Recently refurbished with en-suite rooms and hot showers, and the hotel's central location gives guests an excellent taste of Tafraout life.

Rooms: Discounted rooms available when booked through www.climb-tafraout.com from as little as 140Dh for a en-suite double.
Food & Drink: Breakfast is served on a delightful balcony overlooking town. Guests receive discounted meals in the excellent Restaurant La Kasbah, located 100 yards up the road. Beer and wine is available (residents only)
Facilities: On-street parking.
BEST FOR GROUPS:

AUBERGE L'ESCALADE
If you're coming to Tafraout in a group, or don't mind sharing an apartment, then look no further than the Auberge 'Escalade. Located in the centre of town, this self-catering apartment is the perfect base for a Moroccan climbing adventure, featuring a comfortable living room, shared kitchen with washing machine, and bathroom with hot shower.
The property can be rented either as individual rooms, or as a whole apartment - ideal for groups of up to 10 climbers!

Rooms: The apartment features three rooms, which can be booked individually or all together. Room 1 (double bed), Room 2 (double bed + single bed), Room 3 (double bed + 3 single beds)
Food & Drink: A shared kitchen features a three-hob gas stove, fridge, and all necessary cooking utensils. There is a supermarket located about 50 yards away, and local shop selling bread, milk etc. The excellent Restaurant La Kasbah is also next door, so you don't have to cook for yourself!
Facilities: On-street parking, washing facilities, fridge, air conditioning / heating, shared bathroom with hot shower, rooftop terrace.
LUXURY OPTION:

Hotel Les Amandiers
The traditional home of Tafraout climbing since the Ameln pioneers first started climbing in Tafraout in the early nineties. This is Tafraout's premier and most luxurious hotel, offering very comfortable air-conditioned accommodation in a commanding position on the hillside above town.
Recently refurbished, the Amandiers is the most popular hang-out for climbers, featuring an excellent pool-side terrace and comfortable 'climbers' bar, where the area's new-route book is kept.
Friendly staff speak excellent English, French, and German, and climbing guidebooks are on sale at reception.

Rooms: Discounted rate of 330Dh for a double or twin room. Triple and family rooms also available. All rooms have heating, air conditioning, and en-suite facilities with either a bath or shower.
Food & Drink: Large restaurant serving a variety of simple local and European food. Wine is available in the restaurant, and there is a well-stocked climbers' bar serving a range of beer and spirits. Both the bar and restaurant are open to non-residents.
Facilities: Outdoor swimming pool, large lounge, currency exchange, free WiFi throughout, private on-sight car parking.
This town-centre apartment is ideal for small groups of climbers looking for good value accommodation in Tafraout.
The property features two- and six-person apartments that can be rented separately or together, with an attractive shared roof-top terrace.
Rooms: Apartment for 6 people from 400Dh per night. Rooms for two people from 200Dh per night.
Food & Drink: The apartment is self-catering and features a small kitchen. For guests who prefer to eat out, the excellent Restaurant La Kasbah is located opposite the apartment.
Facilities: Kitchen, washing machine, shower, roof-top terrace.
This is a very pleasant, family-run guesthouse that will appeal to guests looking for more authentic Moroccan hospitality. The hotel is basic, but clean and is well situated on the outskirts of town.
Away from the noise of the town centre, this peaceful hotel is the closest accommodation to the granite climbing and bouldering near Aguerd Oudad, whilst being just 5 minutes on foot from the middle of Tafraout.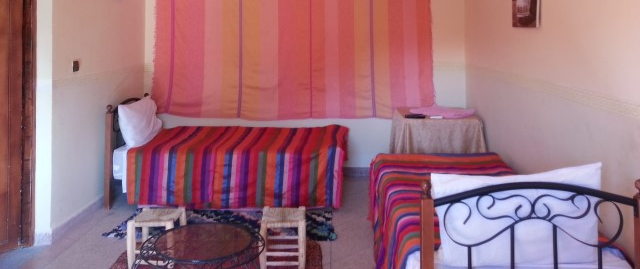 Rooms: Double and twin rooms with air conditioning from 150 to 250Dh per night.
Food & Drink: Home-cooked dinner and breakfast available on request.
Facilities: On-street parking.
This large hotel is conveniently situated on the main road into Tafraout, and is also home to Tafraout's very popular pizza restaurant, where you can get great value meals.
At 150Dh per night, the en-suite rooms here are also some of the best value that you'll find in town, and although the Tifawine hasn't yet achieved popularity with climbers (it's fairly new), the superb service and excellent value mean that it's now a serious rival to the more established Hotel Salama.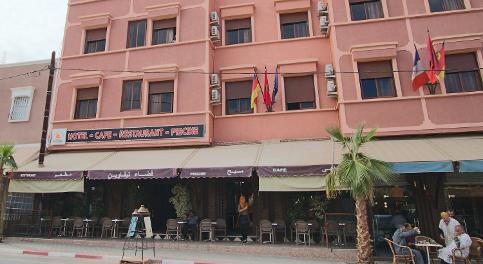 Rooms: En-suite rooms for as little as 150Dh (double or twin)
Food & Drink: Downstairs is one of the best restaurants in town, serving a wide variety of great value meals, and excellent pizza!
Facilities: Ample parking, wifi, swimming pool (summer only), pizza restaurant.
Located in the old Souq in the centre of Tafraout, the Salama was refurbished a few years ago and offers reasonably-priced double and twin rooms that are fairly popular with climbers.
Although the facilities are not as good as the Amandiers, the rooms are well decorated and the hotel has plenty of character. There is a cafe on the ground floor, serving breakfast, dinner, and non-alcoholic drinks.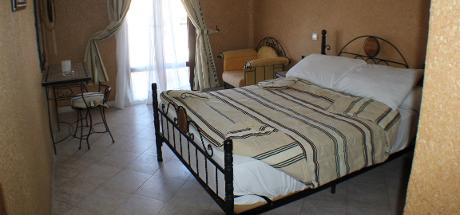 Rooms: Well-appointed double and twin rooms with en-suite facilities, approx 250Dh per night. Air conditioning in most rooms.
Food & Drink: Cafe / Restaurant serving local dishes and non-alcoholic drinks.
Facilities: On-street parking, free WiFi.
The recently-opened San Antoine is an alternative to the Amandiers, offering B&B accommodation for about 300DH per night for an en-suite twin room. The hotel is clean and modern, and well situated on the edge of the town centre. Facilities are basic, but there is a pool and reasonable restaurant. The hotel bar has rather limited opening times, and doesn't provide the pleasant atmosphere that can be found in the Amandiers, but the staff will bring beer to the reception area cafe if asked.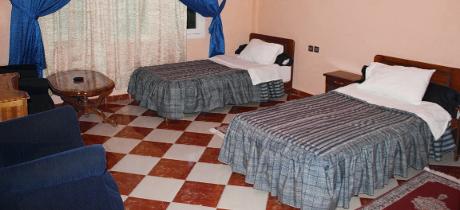 Rooms: Double and twin rooms available for approx 300Dh per night.
Food & Drink: Basic restaurant serving a variety of local dishes. Basement bar lacks character, but does serve beer and wine.
Facilities: Swimming pool, on-street parking.