We are committed to maintaining a strict 'adventure' ethic in the Anti-Atlas, but recognise that increasing traffic on popular crags is leading to increasing amounts of nylon 'tat' on popular descent routes. By replacing nylon slings with steel slings we can reduce the need for multiple soft anchors, making the crags safer and tidier without resorting to drilling, or damaging the rock in any way.
Steel slings cost upwards of £20 per piece. Please help us to fund safe abseil anchors!
proceeds from all sales in our shop now go towards funding this work
The Anti-Atlas Anchor Fund
MAINTAINING AND REPLACING FIXED ANCHORS IN TAFRAOUT AND THE ANTI-ATLAS
Whether it's the adventurous traditional climbing on the quartzite of Jebel el Kest, or the bolted routes in Tafraouts granite playground, abseil anchors, bolts, and lower-offs require maintenance if people are to continue to enjoy the superb variety of climbing this town has to offer. At climb-tafraout.com we are committed to the ethical and safe development of climbing in the region, and use proceeds from guidebook sales as well as your donations to fund this expensive work. Our aims are as follows:
on QUARTZITE
To replace dangerous nylon tat on popular abseil routes with steel slings, in order to create long-lasting, safe natural anchors which do not alter or damage the rock.
To maintain existing anchors, and replace when necessary.
This work has helped to equip popular cragging venues on both the north and south sides of the range, reducing unsightly and unsafe tat at popular rappel points.
On Granite
To replace old, dangerous, or loose bolts on existing sport climbs, many of which are now in excess of 20 years old.
To help educate local people and visiting climbers on the sensitivities of bolting in the region, and to ensure that it is done safely and without jeopardising the area's traditional climbing heritage.
This work has opened up several of Tafraout's historic sport climbing crags, with new anchors and replacements bolts benefiting routes on the Black Wall, Napoleon's Hat, Aousift, Oudafne, as well as other crags in the area.
This work benefits all climbers - please help us to fund it by making a donation. By doing so you contribute to the development of safe climbing in Tafraout and the Anti-Atlas... a small price to pay for all of the wonderful climbing that it has to offer.
Since the late 1990s development of the quartzite crags on the Jebel el Kest and Jebel Taskra has been undertaken by a growing number of exploratory climbers. The region is now home to in excess of 2000 recorded rock climbs on at least 150 independent 'crags' or climbing areas, varying from single-pitch venues to long mountain faces. From the earliest days of development, climbers here have adopted a very traditional, adventurous approach, usually choosing unclimbed lines, often on unexplored faces.
Ethics and Abseil Anchors
A large number of the climbs recorded over the last 10 years lead to abseil descents. In most of these cases first-ascent teams have left behind lightweight 'tat' from which to abseil: a practice that is common, unavoidable, and entirely in-keeping with the strong 'adventure' ethic for which the region is known.
Until recently most of these climbs remained unrepeated, and the safety of in-situ anchors has never been questioned. As more climbers visit the region, however, we must conclude that such routes will see an increasing number of ascents, and the integrity of in-situ anchors may come into question. Indeed, a number of popular crags now feature well-used abseil descent routes that are common to a number of climbs.
Common Materials
It is estimated that there are currently between 100 and 150 abseil anchors in-situ on the crags around the Anti-Atlas, and it goes without saying that there is an awful lot of 'tat' out there. This will inevitably consist of a wide variety of materials, from old prusic chord, to bits of chopped climbing rope, to modern Dyneema slings. A brief discussion of common materials is therefore worthwhile:
KEVLAR
This was one of the first high-strength cords to be used in climbing equipment, offering high tensile strength but poor fatigue properties. Damage to this fibre can be almost impossible to spot before it reaches the point of being unsafe, due to internal abrasion and UV damage. Kevlar is found in many older or low-cost chords, including the original "Spectra Chord".
TECHNORA
This aramid shares Kevlar's high tensile strength but with vastly improved fatigue properties. It is used in the core of many modern ropes, but is susceptible to UV damage.
SPECTRA
This is a high-density form of polythene, offering even greater strength and good fatigue properties. It is, however, difficult for manufacturers to work with, and has a very low melting point (147˚C). For these reasons it is usually woven into other materials (e.g. Spectra/Nylon combination known as Dyneema).
VECTRAN
A liquid crystal polymer with similar strength to Spectra, but without the creep problems which that material suffers. It does, however, suffer heavily from exposure to UV. It is used in many modern climbing ropes and chords, where a polyester or nylon sheath can be used to block UV.
UV DAMAGE TO 'SOFT' ANCHORS
Whilst all slings will degrade differently under exposure to sunlight, and there are too many factors to make an accurate assessment of the strength of in-situ anchors, the following data makes interesting reading.
Tests carried out by Black Diamond Equipment concluded that after exposure to 400 hours of UV light, the common materials exhibited the following strength retentions:
Spectra 72% Kevlar 56% Nylon 91% Polyester 50%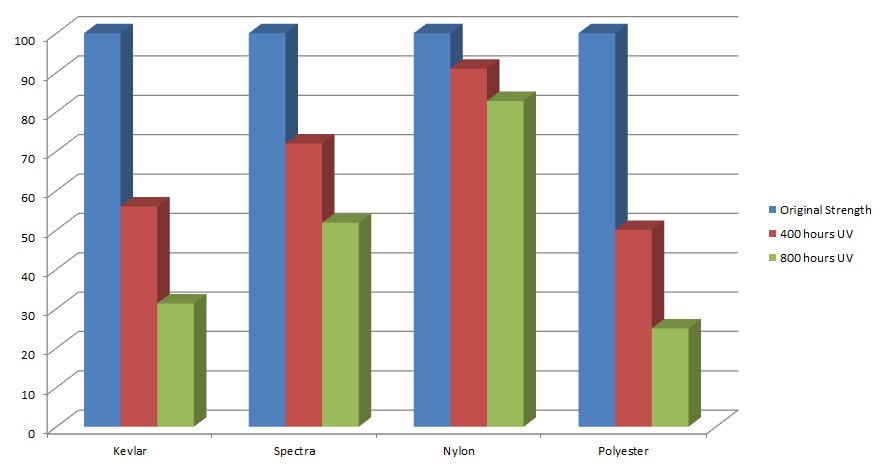 Replacing Soft Anchors
Sun-bleached tat is becoming an increasingly popular sight on the crags around Tafraout, particularly on common descent routes. Since 2012, Climb Tafraout have been gradually replacing dangerous abseil anchors with steel slings or chains. When replacing anchors we follow a strict ethic and place only 'natural' sling or thread anchors - ie we will only place steel anchors where you could leave behind a nylon sling. No drilling, no bolts.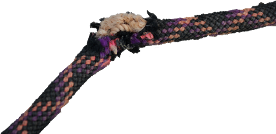 This piece of 9mm rope was removed from a route in the Ameln Valley. The frayed part was hidden out of sight at the back of a thread, and the anchor appeared to have been used multiple times.
Anchors in such poor state are relatively commonplace across the Anti-Atlas region, usually at the top of popular routes that have seen multiple ascents.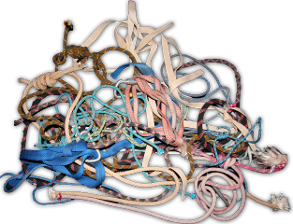 This collection of tat was collected from a single abseilanchor in the Ameln Valley! Between all of that lot it was always going to hold a climber's weight, but was hardly an attractive sight on the crag.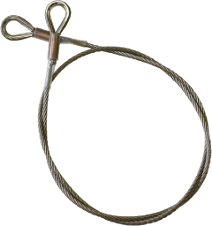 A galvanised steel sling, with a breaking strength in excess of 2 tonnes. Steel slings, cables, and chains can be placed around blocks and threads in exactly the same way as nylon slings, without the need for bolting, or damaging the rock in any way. They have minimal visual impact, and a massive life-span compared to soft anchors.
Old bolts are plentiful around Tafraout's granite crags - a legacy of exploration in the 1980s and 1990s. In many cases, bolting was sparse and made use of small steel bolts and rivets that have become loose or unsafe. In other cases, the lack of availability of materials meant that anchors were left unbolted, or hangers were 'stolen' from other climbs, creating unsafe sport routes and a poor reputation for Tafraout sport climbing.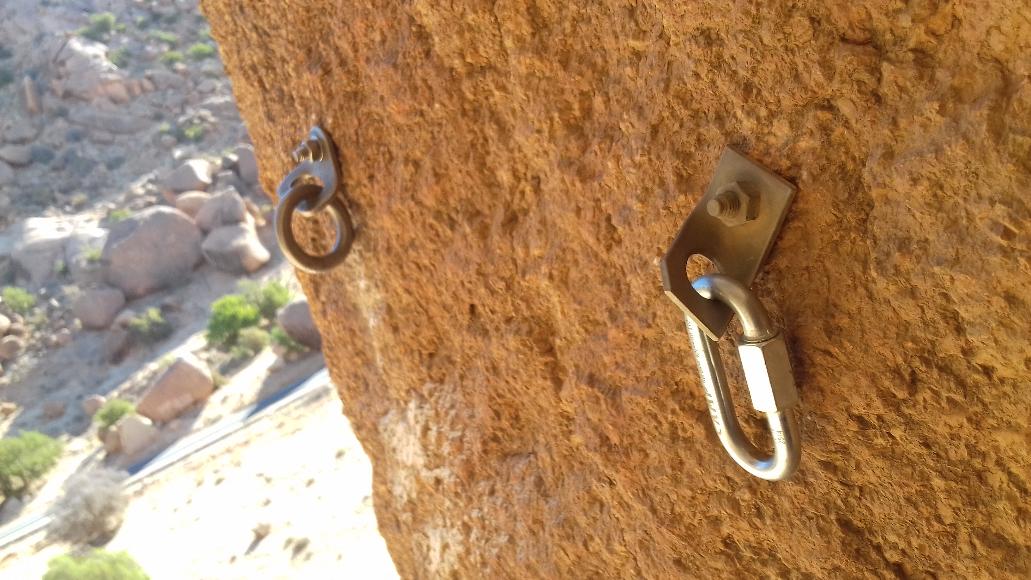 We have been replacing missing hangers as well as replacing old steel bolts with modern stainless steel anchors. This work has seen a huge resurgence in granite climbing in recent years, with crags such as Aguerd Oudad's Black Wall now seeing large numbers of visitors.
For many climbers, particularly those passing through Tafraout as part of a larger tour of Morocco, these bolted crags are popular destinations that deserve the same development and protection as the better known quartzite of Jebel el Kest.
At climb-tafraout.com we are committed to controlled development of safe, bolted climbing on Tafraout's granite crags alongside the protection of traditional quartzite ones. Our work is carried out with the support of Tafraout's Association of Business Owners and the Association of Environmentally Friendly Tourism.
Replacing an old 'tat' anchor with a new galvanised steel cable costs approximately £20 - a one off cost, compared to the constant addition of new slings to existing anchors. Whilst it is impractical to use cable in most situations, setting up properly equipped descent routes where multiple climbs share the same anchors or descent is certainly a realistic goal.
By buying any products from our online store you are making a contribution to this work, but we need more! If you support this work, please make a donation below. If you would like to help by installing your own cable anchors then feel free to contact us.
What Else Can I Do?
- Place anchors in the shade whenever possible.
- Use decent diameter Nylon rope... not prusic cord.
- Remove old tat, rather than adding to it.