Tourists have been coming to Tafraout for decades, to enjoy not only the culture of this ancient oasis town, but also the stunning landscape in which it sits. Here are a few ideas for rest days, rainy days, or just for when you want to see something other than just the climbing...

The Painted Rocks are perhaps the most famous element of Tafraout's granite landscape. They were originally coloured in 1984 by Belgian artisit Jean Verame with the help of the Tafraout fire brigade and 18 tonnes of blue, pink, red, and black paint. This peculiar and controversial work of art is still both marvelled at, questioned and deplored today despite significant weathering over time.
The rocks were repainted in recent years to restore some of their former glory, and in 2016 there are plans to open a small cafe on the site. This is part of a larger project which will see extensive irrigation and cultivation of fruit and vegetables in the area.
The Painted Rocks can be reached by car, though the best way of taking in this bizarre experience is on foot from Tafraout - see our walks page for more information.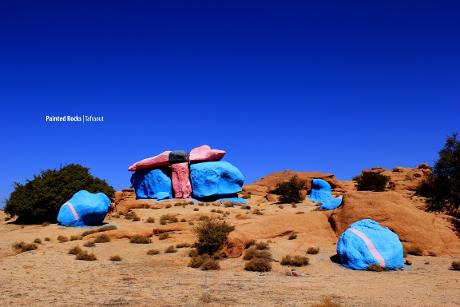 Napoleon's Hat & Aguerd Oudad
The affluent village of Agard Oudad sits 2km to the south of Tafraoute, underneath the iconic Napoleon's Hat. This peculiar granite tor is almost universally featured on Tafroaute postcards and guidebook covers, and attracts hundreds of tour groups each year. A strenuous scramble up to the top of the Hat is usually reserved for more adventurous visitors, but a stop here can be combined easily with a walk to the Painted Rocks.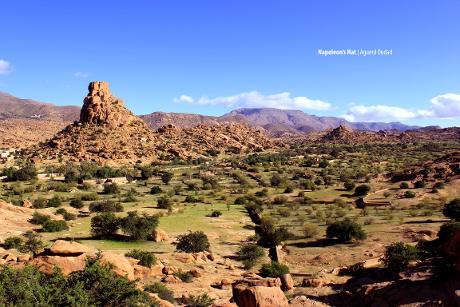 Lion's Face (Tete du Lion)
High above the town of Ameln, this famous Quartzite wall is another of Tafraoute's most photographed attractions. In certain light (usually late afternoon) the shadows of the huge overhangs create the features of a lion's face, making it a challenge to both photographers and rock-climbers alike. The face was first climbed in 1995 by British climbers Paul Ross and Les Brow, and is now home to a number of challenging routes including the epic Great Ridge, a climb of over 2500ft graded Hard Very Severe.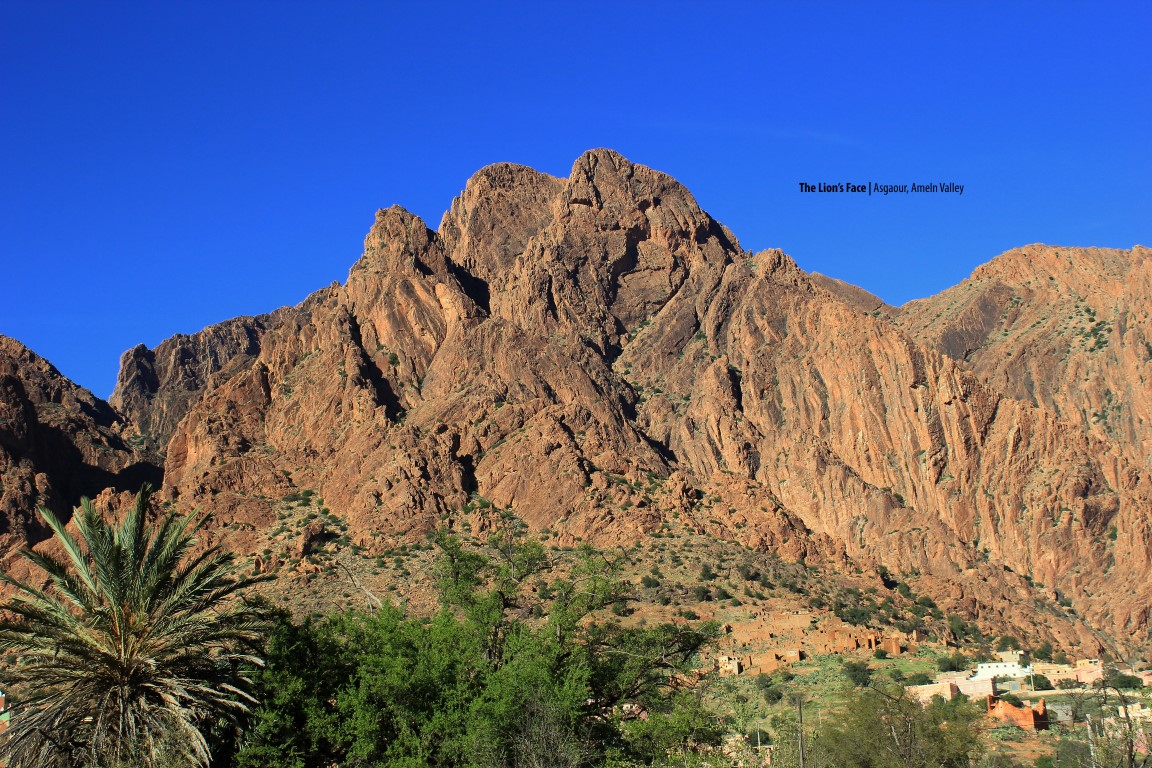 The mighty summit of Jebel el Kest sits at almost 8000ft above sea level, and provides a challenging ascent for ambitious and active tourists. The ascent usually takes 2 days from the valley, with an overnight stop in either Anergui or Tagdicht. The views from the summit are nothing short of magnificent, and an ascent is highly recommended. For tourists with little or no mountain experience it is recommended to hire a guide for the ascent - see our tourist services page for more information.
For climbers, the ascent is also a very worthwhile day out, best made from the village of Anergui. See our Jebel el Kest page for more information.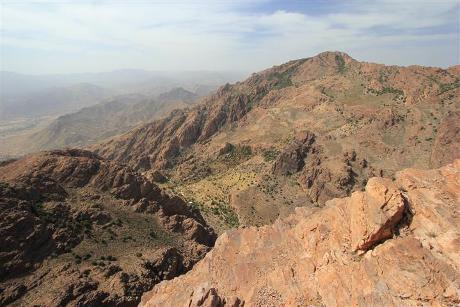 These spectacular and verdant gorges are located some 25km to the south of Tafraoute, and as well as some impressive scenery visitors here can enjoy some traditional Berber villages and hospitality. The gorges are often unpassable in the winter months as flash-floods wash down from the mountains with alarming speed and the rough, unsurfaced road is often washed away. In late spring and early autumn, however, they can be accessed either on bike from Tafraout or as part of a very pleasant jeep tour.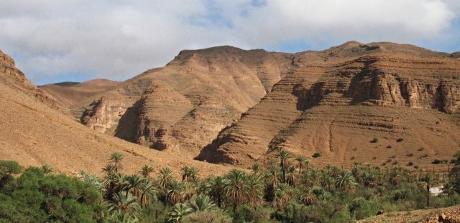 One of the finest examples of a Moroccan Kasbah lies on the main road between Tafraout and Ait Baha (an on to Agadir), just north of Madao and Idagnidif. The Kasbah Tizourgane can be viewed and photographed from the roadside, but is open to the public and even offers accommodation. It is reached in about 1 hour by car from Tafraout over the impressive Tarakatine Pass, a drive that is worth it in its own right.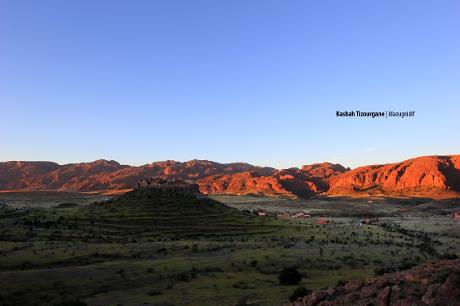 We've got a range of exclusive discounts on Tafraout hotels, including Les Amandiers, Les Amis, Hotel Argana, and the Auberge L'Escalade.