Local Area Maps
Getting hold of maps for the mountainous regions has traditionally been difficult, but the recent OAC MiniMaps now provide good coverage of the Anti-Atlas around Tafraout. The following OAC map series are recommended:
Latest OAC Maps for Tafraout region: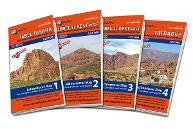 1:25 000 ADVENTURER MAPS
These 1:25k maps replace the old ADVENTURE series. They are printed on tough, waterproof, tear-proof paper that is almost indestructible, and feature ultra-clear terrain shading and crag highlighting to help you navigate complicated terrain on foot.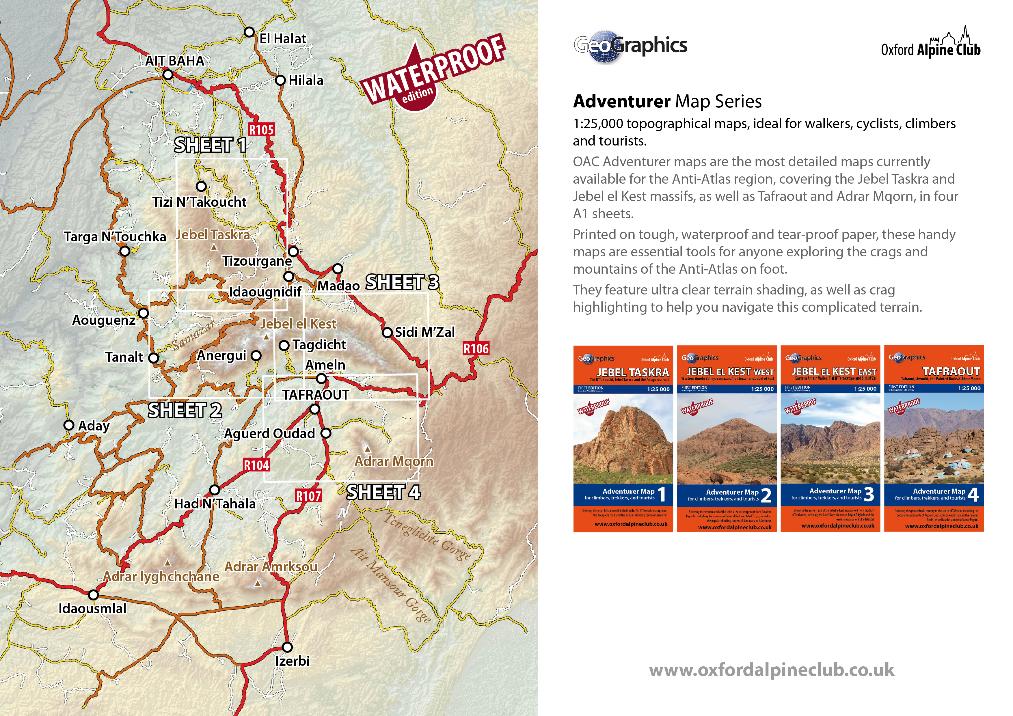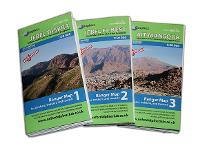 1:50 000 RANGER Maps
Printed on ultra-tough, waterproof and tear-proof paper, Ranger Maps are the essential map for walkers, climbers, or bikers exploring the Anti-Atlas region on foot or by bike. With extended coverage provided by three large A1 sheets, they cover the entire Anti-Atlas region from Ait Baha to Ait Mansour.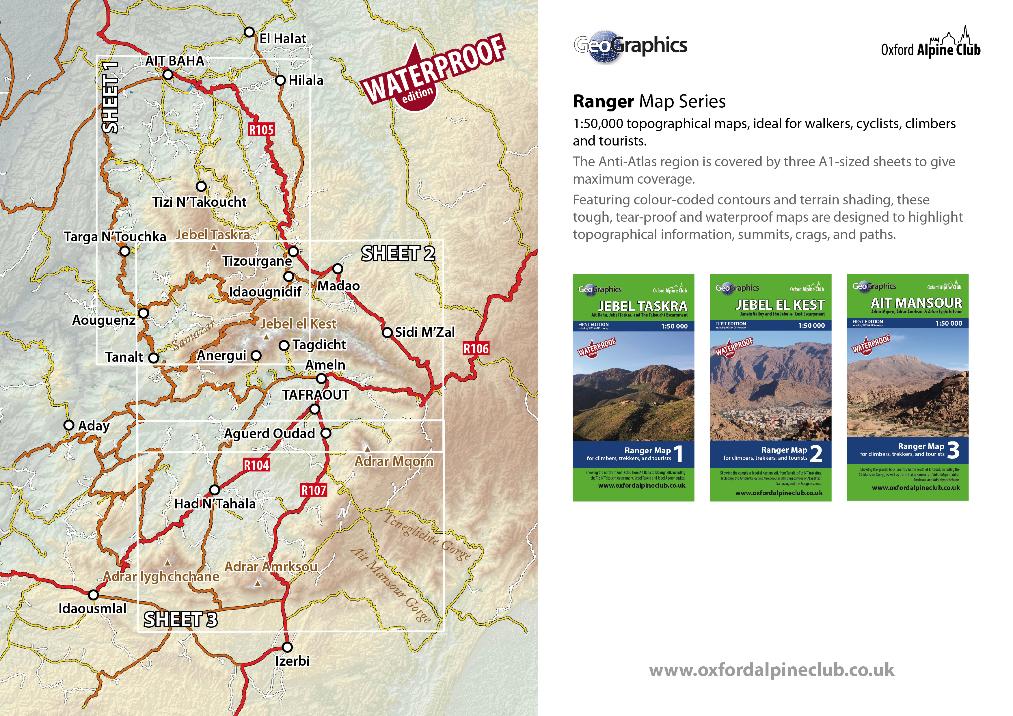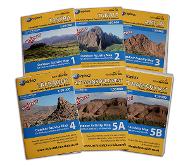 1:50 000 Outdoor Activity Maps
This is the new range of the popular Outdoor Activity series, now printed on fully waterproof and tear-proof paper that will survive years of heavy use. These handy A2 maps have always been popular with walkers and cyclists, as they are small enough to fit easily in a pocket or backpack lid.
The sheet numbers are the same as the old (non-waterproof) series, except that sheet 5 (Ait Mansour) now comes as two separate sheets 5A and 5B. In total, 6 A2 sheets cover the area from Tizi N'Takoucht to Ait Mansour.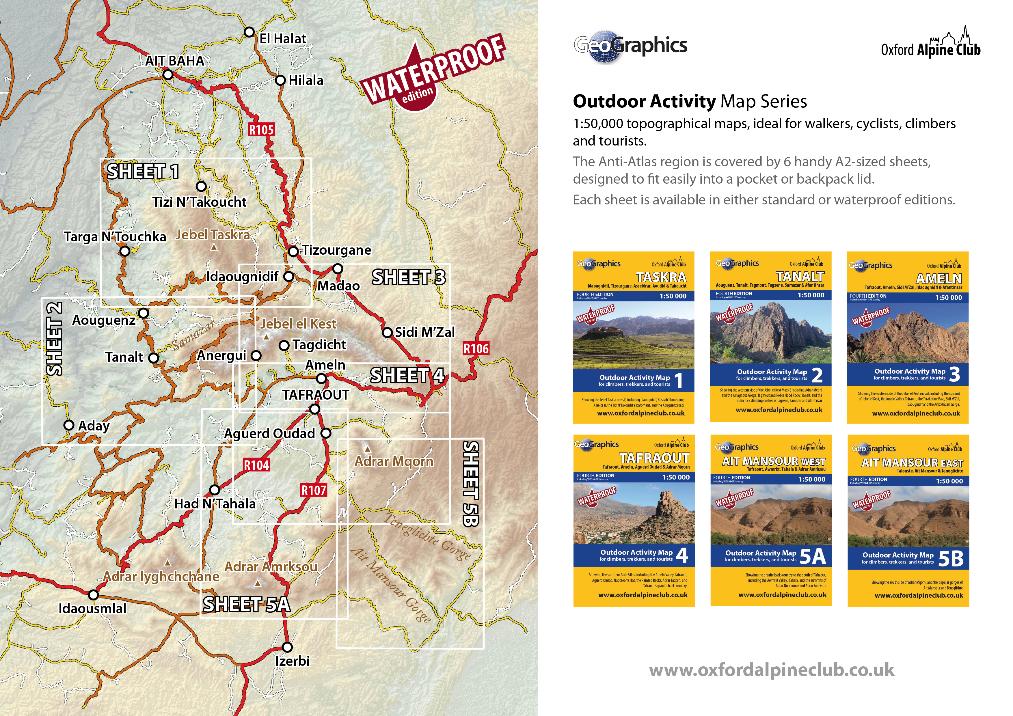 Previous (non waterproof) map series...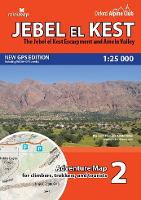 1:25 000 Adventure Maps
The Adventure Map series have now been replaced by the waterproof ADVENTURER series, though several old copies still exist. They are aimed at walkers, climbers, bikers, and skiers wishing to explore Morocco's mountainous back country.
The first sheet in the series covered the popular Toubkal and Oukaimeden areas of Morocco's High Atlas, with a detailed Marrakech street plan on the reverse. A second sheet covers the Jebel el Kest massif.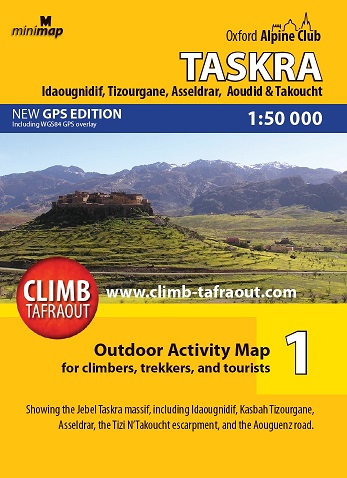 1:50000 Outdoor Activity Maps
The original range of maps cover the Anti-Atlas in 5 handy A2 sheets. The 1:50k scale makes them perfect for exploring on or off the beaten track, and they are an invaluable tool for climbers looking for new crags, hikers enjoying the tremendous mountain walking on offer, or mountain bikers exploring Tafraout's brilliant off-road pistes. These maps have now been replaced with the new waterproof OUTDOOR ACTIVITY series.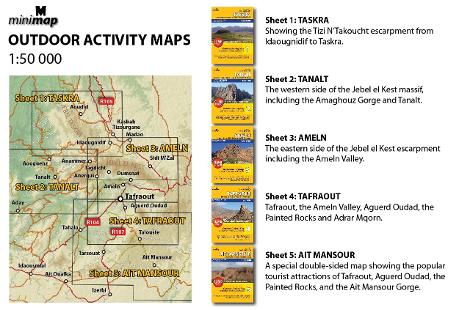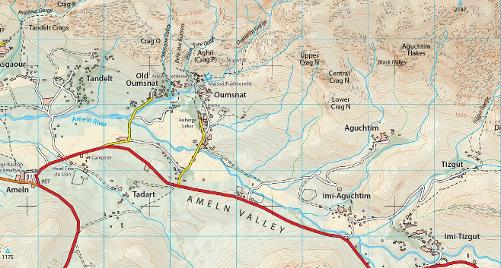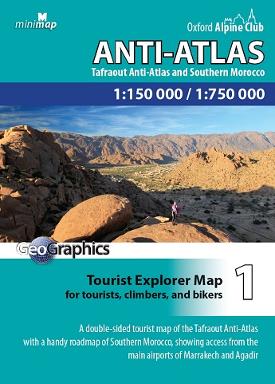 1:150 000 Tourist Explorer Maps
Whether you're exploring the superb back-country tracks by car, 4WD, or bike, or just organising a self-drive visit to Tafraout, then the Anti-Atlas Tourist Explorer Map is an essential addition to your trip. This handy, A2 map is double sided, with a 1:150k overview of the Anti-Atlas on one side, and a 1:750k South Morocco road map on the back.
This map will also suit climbers and bikers for general navigation around the area, as it features all of the navigable roads and pistes, as well as village names and main mountains.