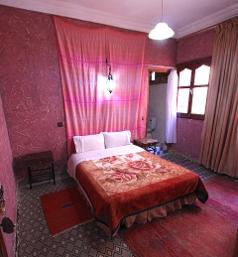 One of Tafraout's long-established guest-houses, Auberge Hotel Les Amis is a favourite spot for climbers thanks to its prime location, superb hospitality and charming character. Indeed, for visitors on a budget, this place is hard to beat.

HERE'S WHAT WE LOVE ABOUT LES AMIS:
Great prices - some of the best value rooms in town
Lots of character
Hot showers
Good standard of cleanliness
Climber-friendly
Beer and wine on sale (to residents only)
Great location in the very centre of Tafraout
Discounted prices for online booking at www.climb-tafraout.com
Residents receive discounted meals at nearby Restaurant La Kasbah
About this hotel
Tel: +212(0) 528 801921
Discounted Price*: 140Dh (double), 190Dh (triple), 240Dh (family)
Facilities:
En suite rooms
Hot showers
Breakfast available (not included in price)
Guest discount in Restaurant La Kasbah
Beer and Wine (residents only)
Online Booking
Having been exploring the Anti-Atlas for more than ten years now, we've built up many friendships in Tafraout and the surrounding area.
We're keen to support the local economy through promoting tourism in the area, and as a result several hotels have been willing to offer reduced rates for climbers booking their accommodation through www.climb-tafraout.com
You can reserve rooms directly with the hotel simply by completing the form opposite.
All of the hotels featured on this website have been personally checkout out and found to offer the kind of service, cleanliness, and security that we would be happy to recommend to our clients.
Please note that bookings made through this website will go directly to the relevant hotel, and are not handled directly by www.climb-tafraout.com. Whilst we are happy to assist if required, any follow-up communication regarding your booking is best made directly with the hotel.