Tafraout: Accommodation outside of tafraout
Staying outside of town is an option for those who want to reduce driving times to the crags on the North side of the Jebel el Kest Massif. The following options are recommended:

At the road to Asgaour, in the heart of the Ameln valley, you will find Auberge Kasbah 'Chez Amaliya'. It possesses fantastic views of the mountains and the famous 'Lion's Head'. 'Chez Amaliya' is situated 4 km from the pleasant and authentic village of Tafraoute. The Dutch -english speaking- owner, Liesbeth van Woerden, is efficient, energetic, committed to responsible tourism and genuinely adores the area and its people.

This hotel has been built in kasbah style and has comfortable rooms, all equipped with a toilet, shower and air conditioning. The 14 bedrooms are positioned either side of a central courtyard housing the pool. Additionally, the hotel has a restaurant, a terrace, a bar and a swimming pool.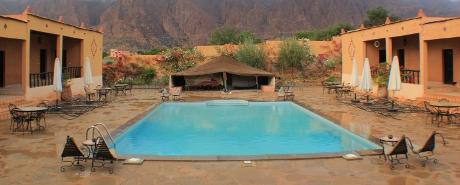 Rooms: Well-appointed double, twin and family rooms with en-suite facilities, prices TBC. Air conditioning in most rooms.
Food & Drink: Restaurant and bar on site
Facilities: Swimming pool, private off-road parking.
This small auberge is located in the village of Asgaour, below the Lion's Face. It comes recommended, but we haven't checked it out personally - please provide feedback in the comments box opposite.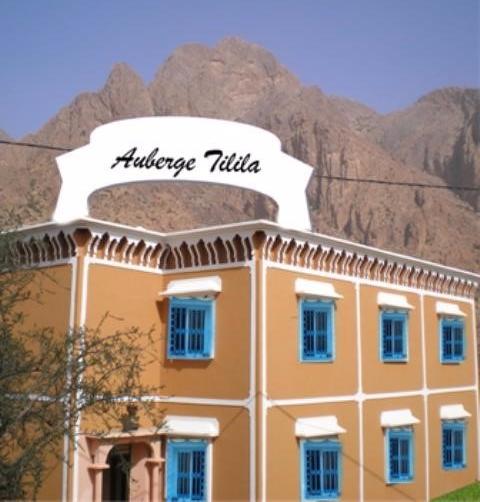 Located close to the main junction at Ameln, this pleasant family-run hotel offers very competitive rates (about 300DH half board) and is sympathetic towards climbers. Alcohol, and excellent home-cooked meals are available in the small restaurant. It is a good option for exploring the crags of the Ameln Valley for those who don't mind being out of town.

Rooms: Double and twin rooms with air conditioning from about 300Dh half board.
Food & Drink: Home-cooked dinner and breakfast included.
Facilities: Private, off-street parking.
The historic fortified village north of Idaougnidif offers excellent and authentic Moroccan accommodation. It is family-run, and whilst there are few amenities in the area, it is a convenient short-term base for exploring the Idaougnidif and Afantinzar areas.
The Kasbah has become a major base for climbers in recent years. Despite being the most expensive option in the area, it is well-situated for climbing on the north side of the range.
Accommodation is basic, but full of character - be sure to bring warm clothes as the place can get rather chilly in winter evenings!

Rooms: Double and twin rooms available from approx 350Dh per night.
Food & Drink: Breakfast and dinner. Packed lunches available on request.
Facilities: Private parking.