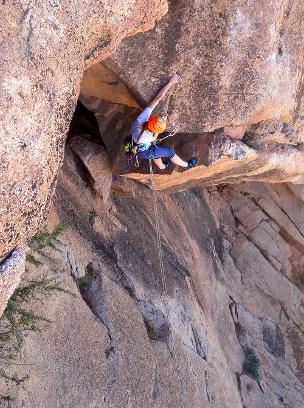 Above: Caroline Culwick on the steep(!) second pitch of Marble Arch (F6a+) on the shady north face of Eflodne.
Although Tafraout is no match for Mediterranean limestone resorts when it comes to world-class sport climbing, there are some excellent bolted crags in the granite region to the south of Tafraout which provide some interesting sport, and a great rest-day option from the trad climbing.
In recent years sport climbing has become increasingly popular, and there are now sufficient routes to spend a good week here without needing any trad gear at all... and whilst there may not be lots of it, what there is is of excellent quality.
The new Tafraout Granite guidebook is the definitive guide to sport climbing in the area, and has all the information that you'll need for a fun sport trip to this desert granite paradise.
Be sure to check out the sport crags at Tazka, Elephant Rock, Yelmo Carpantonic, and the famous Black Wall for mid-grade stuff, and don't miss the easy multi-pitch routes on Eflodne, and Aday Buttress.