Tafraout is located in southwest Morocco, and is best reached either from Agadir or Marrakech.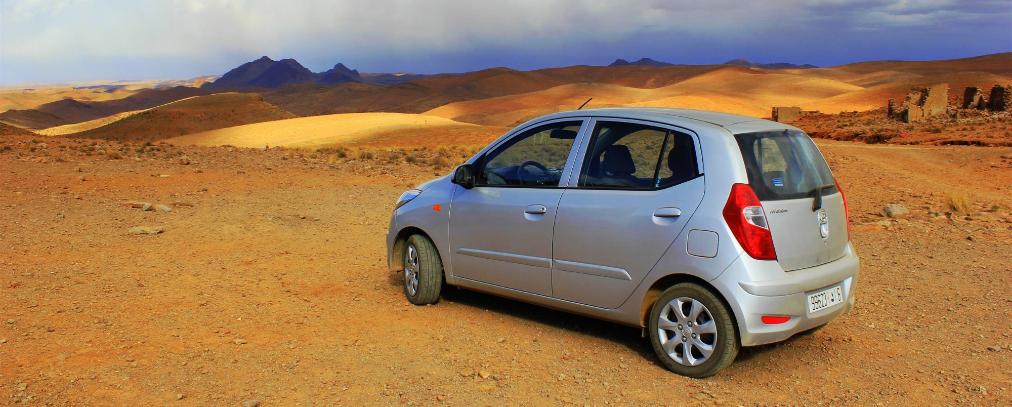 Via Agadir
Flying in to Agadir provides the quickest access to Tafraout and the Anti-Atlas, being about 2.5 hours travel by car. This is, therefore, the prefered option for those who do not wish for the 'Marrakech experience', prefering instead to minimise travel times.
Flights
It is possible to find charter flights operating from Manchester, East Midlands, Birmingham, and other UK airports, though many of these are seasonal services to cater for the Agadir package holidays. If you can find charters to suit your dates, however, then it's usually the cheapest way of getting out there. Scheduled services to Agadir have become much easier to find in recent years, with EasyJet, Ryanair, British Airways and Thomson all offering one or two flights per week from London. For the latest information on who is offering the best flights, check out our Reservations Pages.

Agadir airport is somewhat smaller than that of Marrakech, but has all the facilities required including two banks for currency exchange, a handful of shops (overpriced, but water and snacks available), and all the main car hire desks.

By car to Tafraout
All the main car-hire companies have desks at the airport, and in recent years Hertz have been found to offer a particularly good service. As at Marrakech, it's worth checking the opening times of your rental desk if you're arriving late at night. Compare prices at Rhino Car Hire, where you can get a 10% discount through our Reservations Pages.
The exit from the airport is very straightforward - indeed it is not necessary to drive into any major cities between picking up your car at the airport and arriving at your hotel in Tafraoute, making this drive far more manageable than that from Marrakech. The quickest way is to turn right out of the airport towards the East, then take the first major right to Biougra. Turn left in Biougra onto the R105 to Ait Baha and on to Tafraoute. An alternative way, and the way you're most likely to go on the way home after missing the turning in Biougra, is to head towards Agadir, go South around the ring-road for one junction, then left on the R105 to Biougra and Ait Baha. Click Map for more detail.

A cheaper alternative to hiring your car at the airport is to get a taxi into town, and take advantage of downtown rates. This, however, does not come highly recommended, as the airport is significantly out of town (in the direction of Tafraoute) and taking a taxi to Agadir can add significant time to the journey. Agadir is not a 'tourist-tick' in the same way as Marrakech, so unless you have some other reason to want to visit there we'd recommend paying the slightly higher prices and getting a car straight from the airport.
You can download our handy map and driving instructions here, and be sure to check out the driving advice here:
Public Transport
The airport is located out of town, so travellers wishing to benefit from down-town rental rates or take public transport to Tafraoute will need to go by taxi into the city (about 150DH). The onward journey from Agadir bus station is usually made via Tiznit, either by bus, or Grande Taxi for which it is advisable to negotiate a price before travel (30DH is normal). The Grande Taxis will wait until they are full before departing, and this can take up to an hour. Note that the public toilets in the bus station may be your last chance before Tafraoute! At Tiznit you will usually be dropped off at the South-Eastern side of the town walls. You will need to walk round the outside of the walls to Ave du 20 Aout, which runs out of the wall at Bab Mechouar, on the South-Western side. The Grande Taxi lot is at the end of Ave du 20 Aout, where it is easy to get a seat to Tafraoute for about 30DH.
A direct bus service, operated by CTM, runs from Agadir to Tafraout via Inezgane, Ait Melloul and Tiznit. Tickets can be bought online at www.ctm.ma
Travelling via Marrakech
The journey from Marrakech is significantly longer than that from Agadir, but should not be ruled out, particularly by those visiting the area for the first time. This option usually involves an overnight stay in Marrakech, either outbound or on the return journey, and this is certainly to be recommended for those wishing to experience something more of Moroccan culture. Marrakech is a wonderful, vibrant city and the bustling souq (market) in the old town is well worth a visit in its own right. More information about overnighting in Marrakech can be found on the Marrakech page. Travelling via Marrakech also has the advantage of more frequent flights from the UK, at potentially more convenient times.

Flights

EasyJet, Ryanair, Atlas Blue, and Royal Air Maroc all run frequent flights from London to Marrakech, so it's easy to choose times and dates to suit. Prices vary dramatically depending on time of year and day of the week, but you can expect to pay anything from £150 to £300 for a return flight at popular times.

Facilities at Marrakech airport have imprpoved dramatically in recent years with the opening of a new international terminal, and the whole arrivals experience is now generally painless. That said, travellers should bear in mind that immigration can take up to an hour during busy periods - a fact worth taking in to account if arriving late in the evening and hoping to secure a rental car.

By car to Tafraout

There are several international car-hire companies at Marrakech Airport, and the desks are typically open until 11pm. If intending to hire a car, it is advisable to pre-book and pay for the vehicle from the UK as this saves a lot of time and hassle on arrival. A standard small car will cost between £200 and £250 for a week, though some cheaper options are available. Remember to check the condition of the spare tyre and the presence of a jack as this has been known to be missing. Most cars will be empty when you pick them up, but there are plenty of petrol stations on the way out of the city.

Driving in Morocco is not as much of an adventure as in some developing countries, and other road users on the main routes are generally reasonably courteous. On single-track roads such as that towards Imi N'Tanoute be prepared for a few games of 'chicken' and frequent excursions onto the not-so-hard shoulder. Driving into the centre of Marrakech, however, is to be strongly discouraged - the traffic is heavy, unpredictable, and best left to local taxi drivers to whom mounting pavements and using the 'wrong' side of the road is more familiar. The difficulties of parking in the Old Town add yet another reason to take a taxi if you do need to get into town from the airport.

Taking public transport into town for the evening, then returning to the airport to pick up a rental car is certainly a feasible option, and the exit from the airport is relatively straightforward. The Drive from Marrakech to Tafraoute via Imi N'Tanoute and Inezgane (near Agadir) then takes about 6½ hours and can be completed on a single tank of petrol (costing about 400DH). The road is good, but can be very busy with slow lorries, and there are frequent police check-points and speed-traps.

The alternative is to drive through the Atlas Mountains, via Asni, Taroudant, and Igherm. This is a more scenic route and generally less busy, but the road is narrow and winding, and normally takes about 7½ hours. Petrol is available in Taroudant.

Public Transport

A direct bus service, operated by CTM, runs from Marrakech to Tafraout via Agadir, Inezgane, Ait Melloul and Tiznit. Tickets can be bought online at www.ctm.ma