There's more to morocco...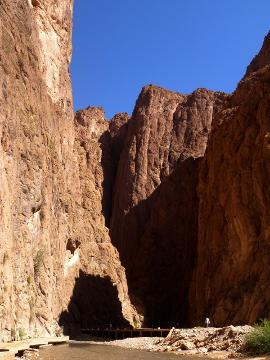 As little as ten years ago, before the explosion of climbing in Tafraout's Anti-Atlas, the Todra Gorge was Morocco's premier climbing destination, and although trad-fanatics have found their new paradise on the slopes of Jebel el Kest there's still plenty of adventure waiting to be had up in the Atlas...
The Todra Gorge is home to about 400 routes, crammed into a narrow canyon that is barely more than a kilometre long... Think of it a bit like Cheddar, but on a much, much bigger and grander scale. Although most of the routes are bolted, there's plenty for the adventurous trad climber to go at as well, making it a brilliant place to combine with a trip to Tafraout.
You can read more about the Gorge on our new Todra page here...
< The impressive Pilier du Couchant dominates the entrance to the todra gorge.