Miscellaneous ramblings, news, views, and anything else we fancied writing about...
Adrar Medni - the Mystery Mountain...
OCTOBER 2015
Located to the west of the main climbing areas of the Anti-Atlas, Adrar Medni has remained one of the last great mysteries of Tafraout climbing. Our own adventures with the 'Mystery Mountain', began back in 2008, when we set off to find a way to the base of a mountain that we'd glimpsed from the Dwawj Hairpins the previous year. On that day we actually got fairly close, discovering the outrageous Amaghouz Gorge, and acres of unclimbed rock. We got bogged down in protracted tea drinking, were forced to enjoy tagine in a random village perched high above the gorge, then got hideously lost on the way home, driving along a riverbed to eventually run out of petrol near a town that we'd never heard of. The map that we drew that day posed more questions than it answered; Adrar Medni was going to take some figuring out.
Of course, we were not the first. Claude's team had also spied those towering cliffs during their early explorations of the range, but like us had been unable to figure out any way of attempting a climb. As the years passed, we became aware of more and more teams turning their attentions towards Medni and the Amaghouz Gorge. A few years later, in an attempt to find a way to the summit, we ended up at the foot of the Tighmert Face, disheartened and rather uninspired. In 2013, we tried accessing the gorge from the east: an endeavour that ended in elaborate tagine-eating, near dehydration, and not so much of a whiff of climbing. There was a theme developing...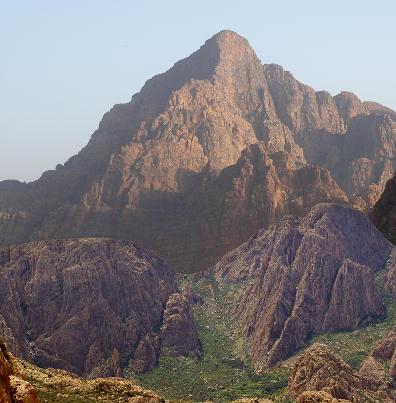 Rough comparison, showing relative scales of Adrar Medni and the Waterfall Walls / Aylim in Samazar.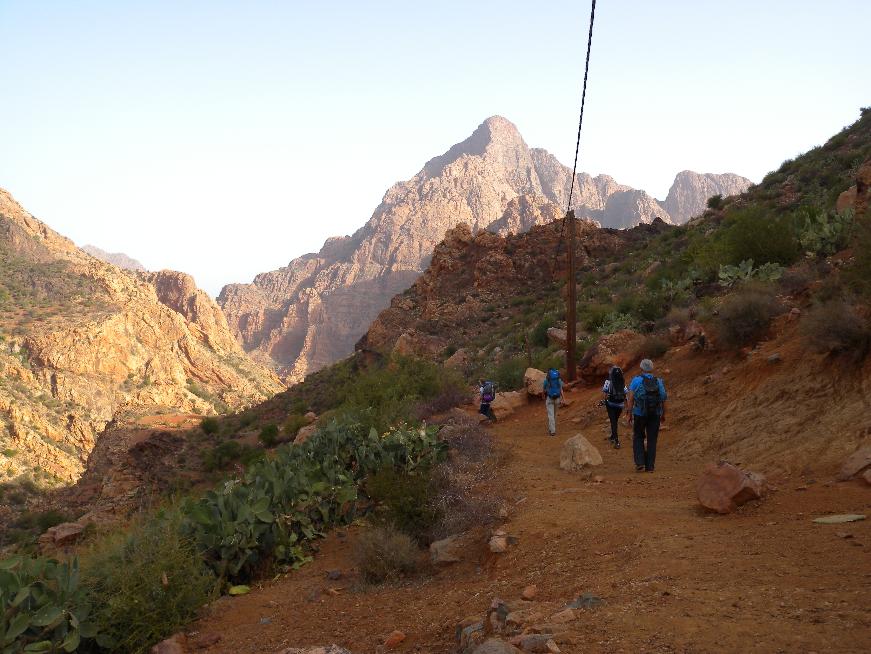 From the col, of course, things took a sinister turn. Steep walls of unclimbable, Euphoria-ridden orange quartzite meant we had few options. The ridge crest was not really a ridge crest, and we became unavoidably involved in a tiny, and often rather precarious, shepherd's path. There was no climbing up here! The scale of the Amaghouz Gorge, which now opened up below on our right-hand side was simply staggering. The magnitude of the ridge above us was equally so.
So after about a thousand metres of scrambling, our all-out attempt at Medni's South Ridge stalled. Our advice for future attempts: don't bother - it's not a route, just a collection of scrambles and chossy walls that don't justify the ridiculous logistical challenges! That said, it's an amazing place on a scale unlike anything else in the Anti-Atlas.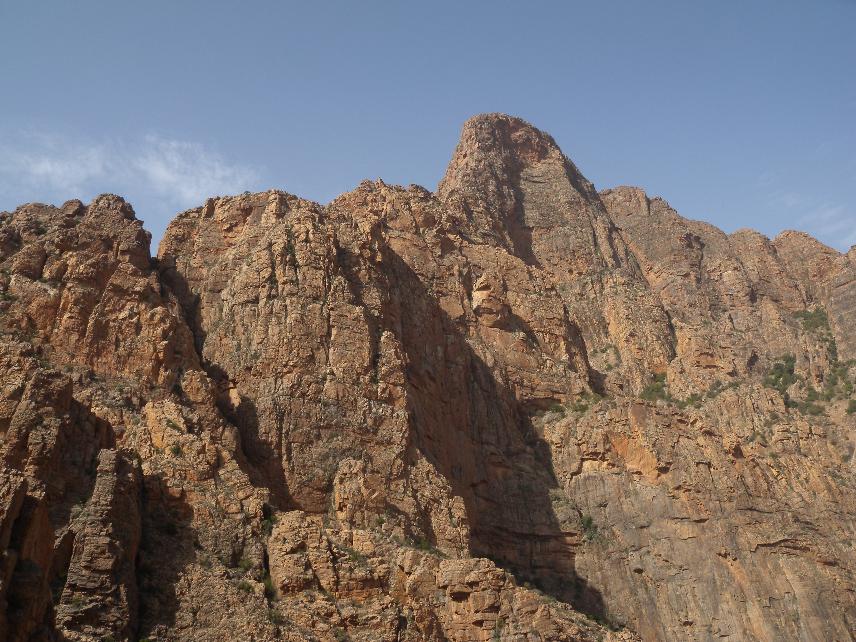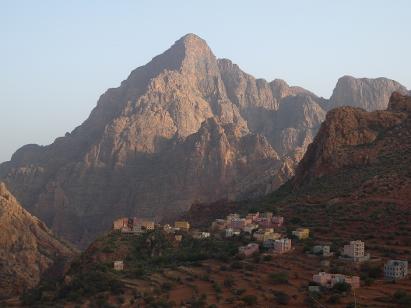 And so it was that in October 2015 we arrived at El Jamaa - our chosen starting point for the first 'real' attempt at Medni's now infamous South Ridge. In the intervening years, Neil and Dan had completed a 600m E2 up a 'minor' subsidiary buttress, and Woody's team had 'conquered' the Tighmert Face via their 300m epic E1 "A Hard Day's Night". But it was the South Ridge that stood out from all the others: a massive, endless, ridge of towers and pinnacles that culminated in an attractive-looking 300m final tower.
But it was the impressive stats that were going to be the problem. The Amaghouz Gorge carves through the landscape, blocking any kind of easy access. It's a thousand foot deep, and whilst Berber paths would surely exist, a Berber bridge would be more use. Then there's the route itself: potentially some 12,000ft of climbing with a thousand vertical metres from base to summit. You could stand Aylim's Labyrinth Ridge (the longest route in the Anti-Atlas) on its end four times over...
So here was the first problem: how much water could we carry? Down in the gorge, at 300m above sea level, it was hot and humid. Yesterday it reached 40 celcius in Tafraout, 700m higher. It was obvious that climbing as a pair was impractical due to the weight of rack and ropes, so we set off as a five, heavily laden with big-wall-style supplies of fluids. Woody generously volunteered to look for the descent route and deposit a supply of water on the summit for us.
It turns out that there is indeed a decent path from El Jamaa down into the gorge, and onward to Addar, lying right at the foot of this stunning mountain. We arrived there in the late morning, and to our surprise the climbing began straight away - an awesome little ridge of perfect quartzite that led us up towards the crest of the South Ridge proper. It gave about 500m of excellent easy scrambling... surely this was too good to be true?!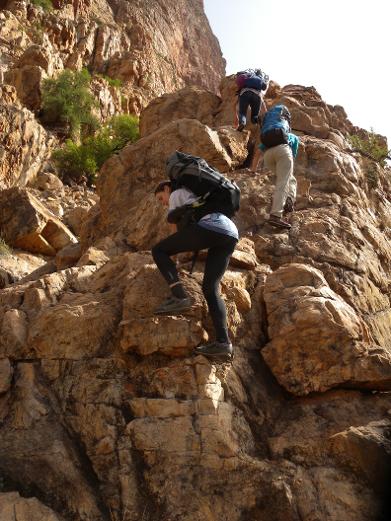 The following day we headed over to Samazar, where everything looked teenie tiny.